Mage: OC collaboration with a 4 year old Boy
Mage: OC collaboration with a 4 year old Boy
Mage: OC collaboration with a 4 year old Boy
by
Jadis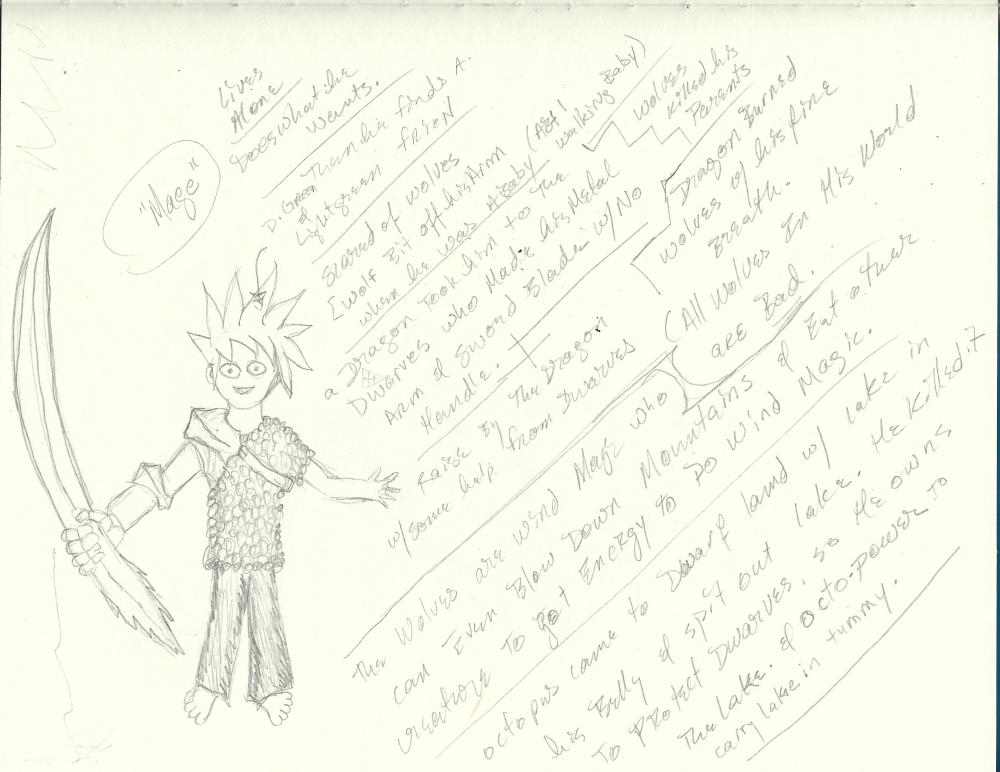 Description
MY 4 year old grandson described this character and I drew him according to Rodricks description and wrote down his story. I made suggestions and he used some of them but not most of them. 

the explanation is written by the picture, basically 
he has green hair
his sword without a handle is also a key-blade like in kingdom hearts
his arm was bitten off by wolves who ate his parents, Dwarves made him a new arm. 
a dragon saved him from the wolves and raised him with the help of the dwarves. 
the wolves are powerful wind mages who can blow down mountains and they are all evil. 
the dragon burned the wolves with his fire. 

A giant octopus once came with his lake in his belly and spit out his lake in the dwarves place, and Mage defeated him to save the dwarves, and took his powers, so Mage has a lake in his belly [full of baby giant octopi] which he can spit out at will, IE if he needs to drown someone in a battle or just wants to see the baby octopi, or go swimming, or fish for food when he's traveling. 

I like collaborative creating with little kids, because they ere so willing to let things not make sense, and things that don't make sense are so much more fun. 

I mean, nobody in my story carries a lake full of baby octopi in their belly.