Vrach and Vasiley
Vrach and Vasiley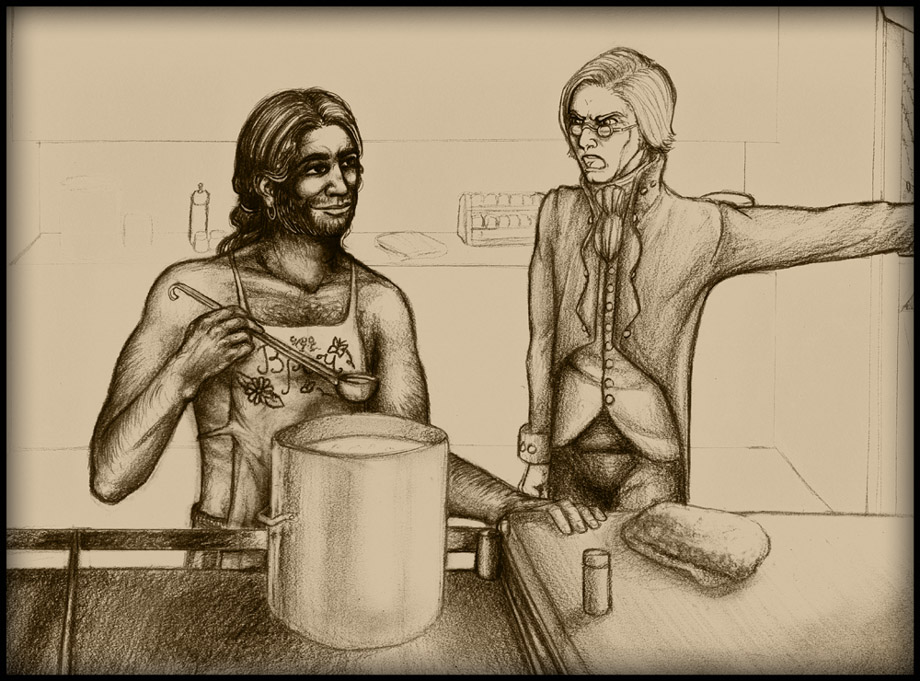 Description
This picture features Vasiley Gregorovich Orlav and Doctor Nathaniel hess. Vasiley is a Russian dockworker that was pressed to the crew to help with repairs, while Hess is a German spy working for the French. He was doing some observations in India when he was also pressed to the Sirena to help the captain, who had been stabbed by his Chinese lover Xing Li Hu, desparate for what little money he had. The crew's doctoring had done little good, but Hess saved Torricelli's life to save his own. Hess made himself even more valuable when he proved himself to be an excellent cook, ousting Vasiley from one of his other tasks.
The Russian pesters him constantly, his most annoying habit being that he sneaks in the galley while Hess steps out and eats some of the captain's soup. This, however, was actually an order from the captain, who is suspicious Hess wishes to poison him and start a mutiny in order to return home before the French government becomes suspicious of his allegiances. The captain is correct in his assumption, but Vasiley's persistence keeps him from doing the deed and proving himself guilty.
Vasiley also sewed flowers in the doctor's apron at one point, along with the Russian word for doctor, 'vrach,' which is what he calls him.
For more information on the Sirena:
http://www.fanart-central.net/pic-472247.html
I'm going to paint this like the last one, which is why the background penciling is so light.
General Info
Comments
1
Media
Graphite pencil
Time Taken
Reference
Star of India's galley