Katrina AKA Kat
Katrina AKA Kat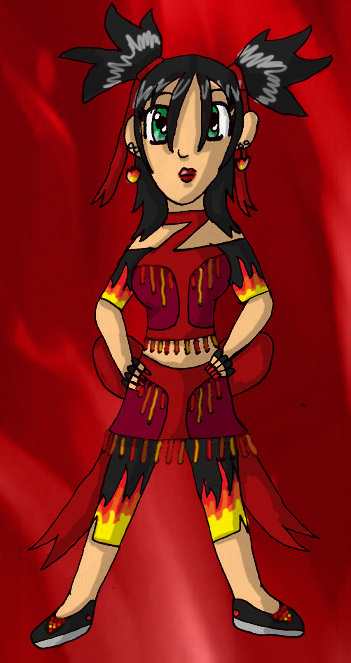 Description
This is my OC for Avatar! My best friend just recently got me into the show, so that's why Kat is just now making an appearance. She happens to be half Fire Bender and half Air Bender. (dun-dun) She's also got the biggest crush on Prince Zuko.

Name: Katrina (Ka-Tree-Na) AKA Kat
Age: 16
Weapons: Some Good Fighting Moves, Her Fire Bending Abilities, and Her Air Bending Abilities (Don't worry, she can't learn how to bend earth and water. She's NOT an Avatar.)
Downfalls: Her kind heart makes her hesitate ALOT and she wounds up being beat up, she doesn't have complete control of her Air Bending abilities, and she can be really goofy and clumsy. (I added these in here so you guys will know she NOT a Mary-Sue besides her far from perfect history and life.)
Pet: A Fire Cat Fox named Fee-Fee (Just an excuse to make up an animal.)
Relationships:
Kinoke (Mother) OC
Lo-Mei (Father) OC
Jikin (Older Brother) OC
Prince Zuko (Boyfriend?)
Bio:
Katrina was born to an Air Bender by the name of Kinoke (Ken-No-Key) and the head of the Fire Nation's army, Lo-Mei (Low-Me). Kinoke's family and a few others had survived the destruction of the Air Nation, but that caused problems. Kinoke's family had joined with others and only about fifty families were left almost a hundred years later. Kinoke was one of the last older Air Benders, but her pain did not stop there. During one of the Fire Nation's raids, Kinoke got caught in the middle of it and was raped by General Lo-Mei. This was when Katrina was conceived. Two years later, Lo-Mei finds out about his daughter and raids Kinoke's village again. He takes his daughter and kills everyone else including Kinoke in a blind rage.

Katrina was then raised as a Fire Nation child and has her Air Bending abilities suppressed. She was trained hard and became a Military Brat. Her dad had beat her until she got something right and her older half-brother, Jikin (J-I-Ken), ignored her. She soon became tough just like any other Fire Nation child would be, but there was one thing different about her. She was kind even after all she had been through. Katrina's kindness got her in trouble when she turned sixteen though. She refused to have anything to do with the war. She thought it was wrong and if she was going to help anyone, it would be the Avatar. She was banished from the Fire Nation and could never return.

Katrina soon meets up with Aang, Sokka, and Katara. They think she's an enemy at first, but she explains her situation. They then let her join their little group and Aang unsuppresses her Air Bending abilities. She soon has to split from then though because people come after her. She didn't want to put her friends in danger. Then she meets up with Zuko.....

That's it for now. Also, Aang is still technically the last Air Bender because Kat is both Air and Fire. That's how I see it. I hope you like!
General Info
Comments
1
Media
Other digital art
Time Taken
About 30 mins.
Reference
None