Komori-Inves
Komori-Inves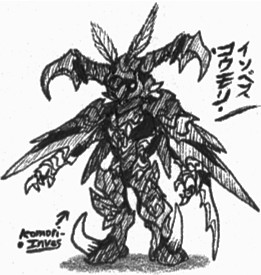 Description
From
Kamen-Rider Gaim
.
Komori-Inves
: (コウモリインベス)
http://i231.photobucket.com/albums/ee121/Kainsword17/Inves/06KomoriInves_zps84a51714.jpg
The Komori Inves was a Berserker Inves summoned by Jonouchi Hideyasu for an Inves Game with the Ichigo Lockseed he got from Kaito via a deal agreement against Team Gaim. Mai had originally stepped up to the plate to fight Jonouchi, but Mitchy intervened and transformed into Armored Rider Ryugen to fight against the Komori Inves.
He handily dealt with the Inves, as the Berserker Inves' flight capabilities made it vulnerable to Budou Arms' Grape Ryuhou, and was soon destroyed with the Dragon Shot.
Another one has summoned by Kamen Rider Bravo along with horde of Elementary Inves. Later it was destroyed by Gaim's Suika Arms Odama Mode.