Book of Mudora: Fierce Deity
Book of Mudora: Fierce Deity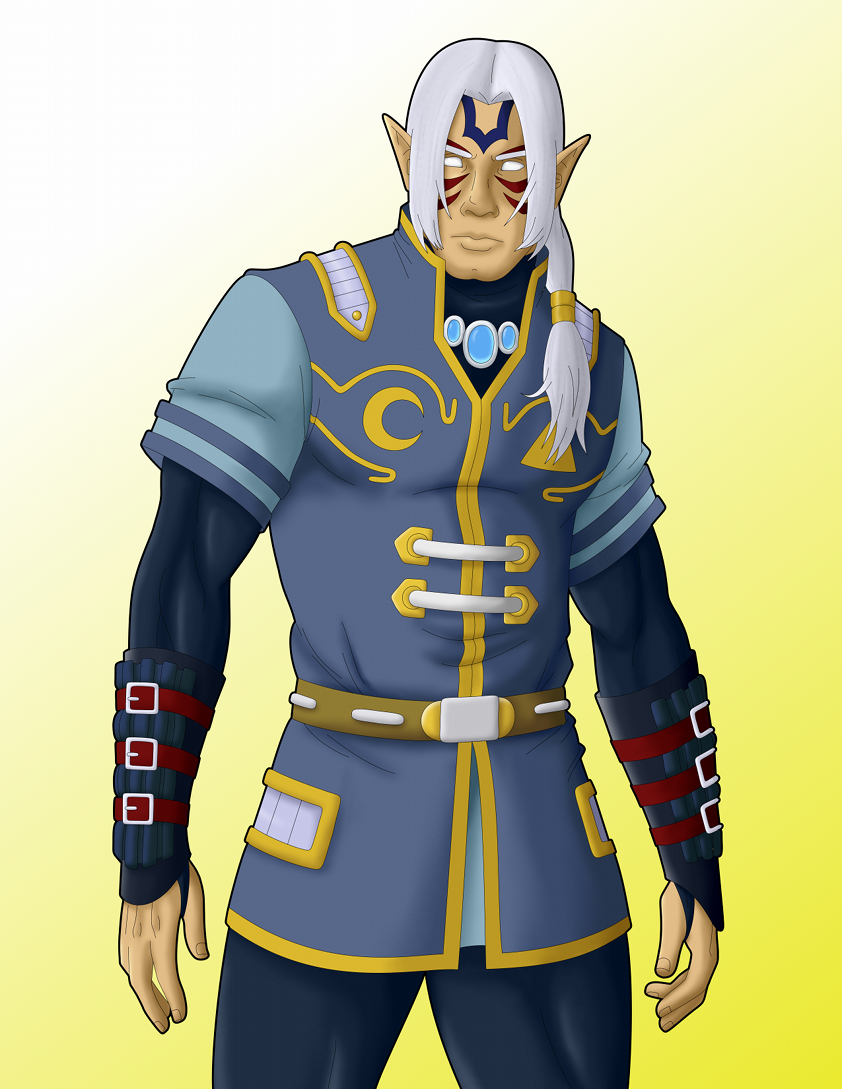 Description
Real Name Unknown
Aliases: God of Order, Fierce Deity, The White-Eyed Devil
Race: Unknown
Age: Unknown
Height: 7'5" (Reserved Form), 30' (God Form)
Family: Unknown

The Fierce Deity is a central character to the Book of Mudora series, seen as a protector of the people who firmly believe he will free the world from Majora's darkness. Since their last battle, he remains slumbering in a prison fashioned by Majora and will break free once she returns to the mortal realm.

History
- - - - -

Much like his dark counterpart, his birth is a source of mystery. He was discovered, not far from where Majora was found, by a group of lower gods who took and raised him in the city of Arias. He was raised by a warrior god and he quickly developed a lust for fighting as he grew older. This eventually led him to being hand-picked by Arias' king to become leader of their elite soldiers, the Angeli.

While acting as the master of the Angeli, the Fierce Deity came under the tutelage of a man named Magido, a Neithim who defected from his hometown of Celavera. It was from this old man that he learned the truth of the circumstances behind both his and Majora's births and how the two were fated to reunite and battle each other. Since that day, the Fierce Deity felt an intense, burning desire to hasten the inevitable and engage Majora in conflict. It was only when a heinous act of murder was discovered amongst the Arias people that the fragile peace between the cities fell apart. With the two civilizations heading to war, it, too, drove Majora to show herself and the two gods engaged one another in combat.

Their battle barely lasted an hour when a tragedy struck their realm. Torn asunder and pulled into the void, the Fierce Deity fought his way through to another realm with Majora in pursuit. Finding themselves on a fairly new world crafted by three of their fellow gods, the Deity felt the lust for battle, having no regards for the young races that made their home of this new realm.

As three days passed, gaining the admiration and worship of many of the races that acted as spectators to their battle, the two gods were still too equally matched to bring the other down. The Fierce Deity, frustrated at his fruitless efforts, called upon powers granted to him by his master to end the battle in one fell strike. However, he failed to realize the full extent of the Neithim's strength and when they backed Majora in one final attack, he was halted and encased within a crystal prison after tear. To further prevent his escape, Majora and her companions tore open the earth and cast him deep into the bowels of the planet.

After several hundreds of years had passed, the Fierce Deity gained enough strength to call out to anyone he hoped would find him. His calls were answered when a group of humans belonging to a reclusive race found and unearthed his tomb. He promised them power to surpass all other races in every way possible as long as they held him in safety till his prison wore out and he was once again free to go after Majora. A pact was made and the people hid him away where he would remain untouched, slumbering until the fated day of the clash between the gods.