Book of Mudora: Link (Power)
Book of Mudora: Link (Power)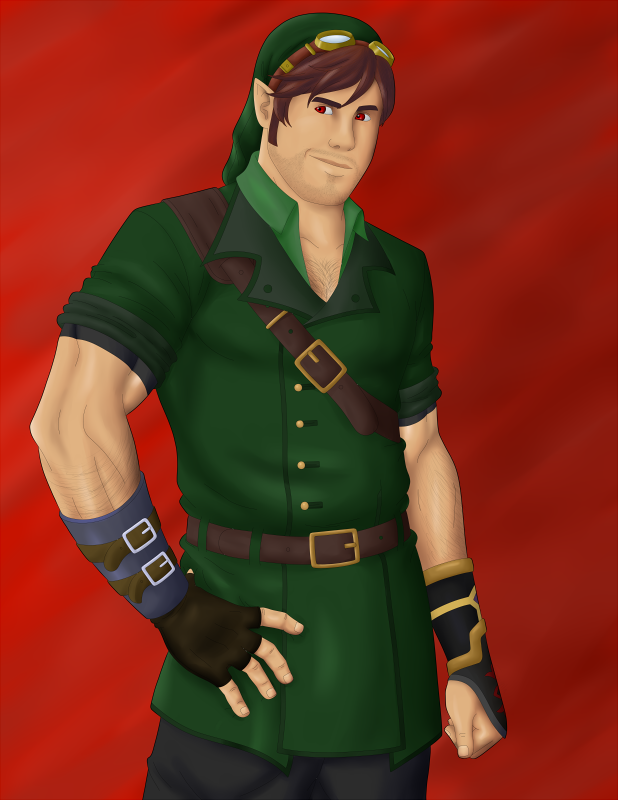 Description
Link 'Dyami' Richter
Race: 1/2 Hylian, 1/2 Sheikah
Age: 13 (Ties That Bind) - 51 (Endgame)
Height: 5'11"
Family: Claudus (Uncle), Alphonse (Adopted Cousin)
One of the main protagonists of the Book of Mudora trilogy, Link, or as he prefers to be known: Dyami, is one of three Links who are pulled together to stop the machinations of a mysterious force. Unlike his past incarnations, this Link is connected with the Triforce of Power and as such, is the strongest, physically, of the trio of chosen heroes. While his Hyrule-born compatriot tends to be more stoic and occasionally moody, Dyami is more laidback and jovial to the point where he hardly takes anything seriously.
History
- - - - -
When Link was born, his parents were informed of his destiny as the chosen hero. However, he was born in a land that was already devastated beyond hope by a great evil and so, his parents set out for any safe haven they could find at the behest of his mother's older brother. It's unclear what happened after that, but Link was separated from his family, only to wind up, by some force, at an orphanage where he was raised for the first seven years of his life.
After so long, Link was found by his uncle who took him and Alphonse, a close friend he had made in the orphanage, into his care. As he grew older, he began researching the legends of Hyrule, particularly those of the chosen hero who, time and time again, would arise and be the savior of Hyrule. But, his research also sent him delving deeper into the dark history of this seemingly ideal kingdom. Disgusted by the atrocities the people of Hyrule had committed, Link vowed he would never be their savior, forsaking his birth name and choosing to be called Dyami instead.
It wasn't until he was 13-years-old that Dyami was swayed by his uncle to take up his sword and defend his homeland from the Angeli. Aided by his two friends, Dyami sought out the mysterious faction only to encounter his Hyrule-born counterpart. Dyami learns from Link's allies the truth behind Hyrule's bloody history and eventually comes to embrace his role as the gods' chosen hero. Though he chooses to still be called Dyami to avoid confusion between the two Links on the team.
Original:
http://www.fanart-central.net/pic-799845.html
(For a while now, I've been wanting to change Agatu's name as it's been about twelve years since I first created him and I can no longer remember where his name originated from. I also wasn't satisfied with his original design and I wanted to give him a very slight steampunk look to his outfit.)