The latest fashion
The latest fashion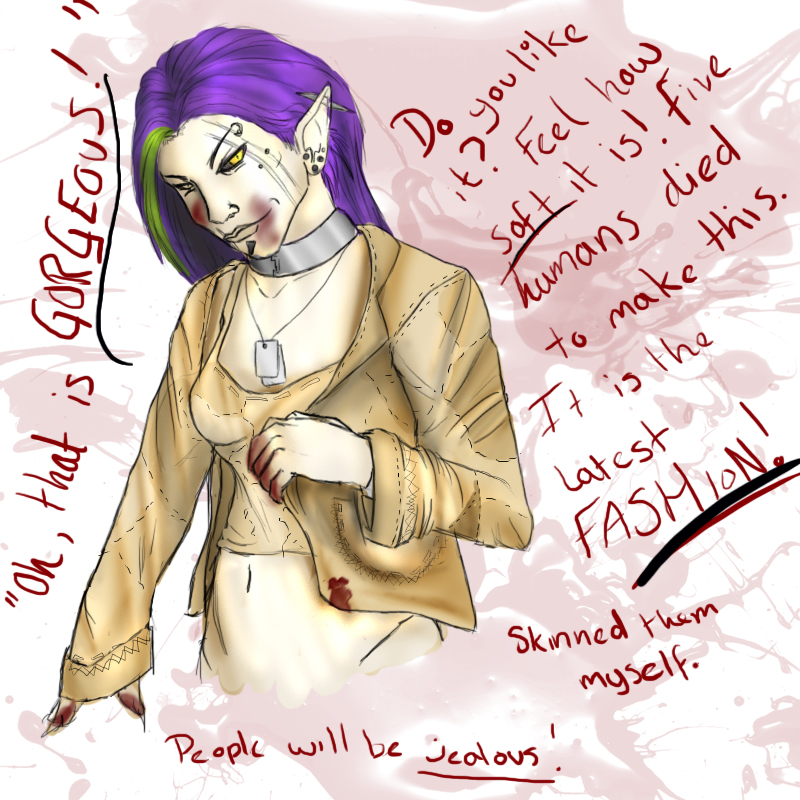 Description
"They watch me walk the cat walk,
all eyes staring at me.
They know I talk the talk,
as glorious as I can be.
Human hide, far from fake!
Pressed and stitched and woven
The best all hands could ever make,
Only few lives were stolen!"

Kat D showing off the latest fashion.

Human hide! Only five people died to make it, but it was totally worth it 'cause now she looks stylish and amazing and people will surely be jealous, wanting their own human hide jacket. It is expensive as frack, too, adding bonus points to the overall impression. Can't go wrong with a hide jacket like that. It'll make her popular as ever as she twirls around and flaunts it, claiming that not many people died to make it. Before long, she will make a matching hat and scarf, but they will be of the 'negro' so to nicely clash in contrast and help her stand out amongst the crowds with the best of fashions, starting a new era. If you want your own, surely you can get one from a fashion artist. Try to find an artist, though, that kills the humans in a nice manner, or one that skins the flesh from a very fresh corpse. That way, it isn't so horrible to wear it, especially if they were already dead, died of natural cause. Make sure you tell others that the people were already dead. It will make them understand that your new coat isn't evil at all, and people in the insane societies against human hide may not throw red paint on you (but probably will). It is true that the best hide jackets are made from the people who were skinned alive - ensures the hide is fresh from the bone. It will cost a fortune no matter what as the hide as to be imported from China. But that won't make a nice topic starter at the fashion show, so just keep quiet on the jacket's origins. Wash with care.

-----------------------------------

This came about as an idea a week or two ago. Forgot what the original image idea was other than drawing Kat D in a human hide jacket. It's just an image to flip the tables in the 'fur' fashion. No, I am fine with people who wear fur that is from a corpse, for instance. If someone chooses to wear fur, that is their choice. Everybody is different and can enjoy their own thing (afterall, we all are guilty of horrible things).

But I personally don't like the origin of a lot of fur. It was several years ago that the retarded PETA (prats for the ethical treatment of animals as I say) linked a video around the internet (thanks, frackwads) of a chinese fur farm. It showed how dogs and cats were taken from any source (even stolen) and locked in tiny cages that ensured they could only lie down and not move, for transport. As they were thrown off the back of the truck at the destination, they would hit the floor several feet below and have their bones broken. This was because they were stuck in the cages unable to stand, so as they hit the floor, their bones broke because they had no resistance to the force of the floor. Then, thankyou, Prats for the ethical treatment of animals, it showed the animals being skinned alive! And when the animals showed any resistance to being skinned alive, their heads were stomped on or smacked.

That video scarred me for life, truely. As much as I know PETA are just stupid, I can't help but see where they come from due to this video. Because of it, I support (if it would happen) suffering to the people who skin animals alive. I truely, truely hope and pray these people suffer in their lives, no matter the cause of the suffering. I can only hope I will one day be able to break their bones. I know I won't be able to cause I don't know any skinners like that, but it is a dream, at least.

Asthma, I choose you!
General Info
Comments
0
Media
Digital drawing or painting
Time Taken
Reference