PGSM - Sailor Chibimoon
PGSM - Sailor Chibimoon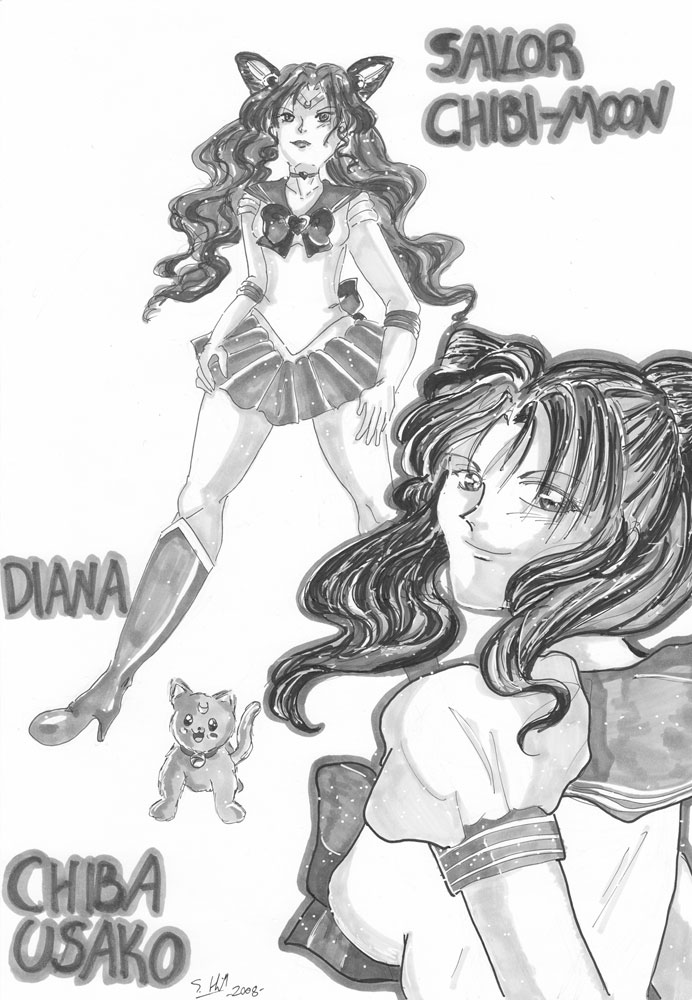 Description
Line art in copic pen and coloured with several gray copics. This is part of a Pretty Guardian Sailor Moon fic idea, involving Chibiusa as the principle character.

I've gone with the name Usako instead of Usagi, because the name was never used for Usagi in PGSM and I've always found it cute. It also helps to set her apart, but not in a drastic way. Usako is 16, sociable and talented, trained in the arts of kendo, piano, karate and espionage from her godfathers, the shootennou.

Like the manga and anime Chibiusa, she received her nickname from her father and dislikes most people using it, especially those younger than her. Chibiusa and several other girls were given the ability to become Senshi, when a warm silver light informed them that the Earth was in danger. Here's a quick look at the other Senshi:

FURUHATA MIDORI (15)/Sailor Jupiter - Chibiusa's best friend. A gentle giant who loves to cook and take care of her pet turtle, Kamekoko. Midori expresses her love of turtles through cute accessories and while considered dorky, is well liked.

AMELIA "AME" WATERS (14)/Sailor Mercury - Daughter of Mizuno Ami and her husband, a fellow doctor, from the US. Ame is studious and sporty, and enjoys competition. She has spent most of her life in America, so while aware of Japanese culture and expectations, does not function well in it and is presumed to be rude. Ame's favourite pasttime is playing hockey.

KUMADA REIKO & KUMADA REIKA (12)/Aplha Sailor Mars & Beta Sailor Mars - Daughter of Hino Rei and Kumada Yuuichirou, heir to his parents vast fortune who escaped his claustophobic life to embark on a journey of self discovery. By the time he happened upon Rei's temple he was scruffy and weak, wondering if he should give up his journey. But then met the fiery goddess and knew she was a sign. He imposed himself on her, insisting she become his sensei. In time they fell in love and married. Reiko and Reika are dedicated Shinto miko, who love to play tricks. It's impossible to tell them apart, so when alone with one of them, if you're unsure, it's easier to say 'Rei-chan'.

WAKAHISA AI (9)/Sailor Venus - Daughter of Aino Minako and a Japanese actor who died of a terminal illness a year earlier. Ai is a famous child actor, who currently appears in her own tv show. She is very popular and likes to use her fame for the goals of the Senshi. She is spunky and intelligent, and does what she can to dismiss the pain of losing her father.

DIANA MOON (8)/Sailor Diana - Diana spends equal time between life as a plushie and life as a human. Their family live next door to Chibiusa's family, so she has always been attached to Chibiusa as a big sister figure. Diana is absent minded, clumsy and easily distracted. She makes up for her failings by being resourceful, loyal and curious.
General Info
Comments
0
Media
Ink or markers
Time Taken
Reference