Lost Odyssey 2 - Immortals
Lost Odyssey 2 - Immortals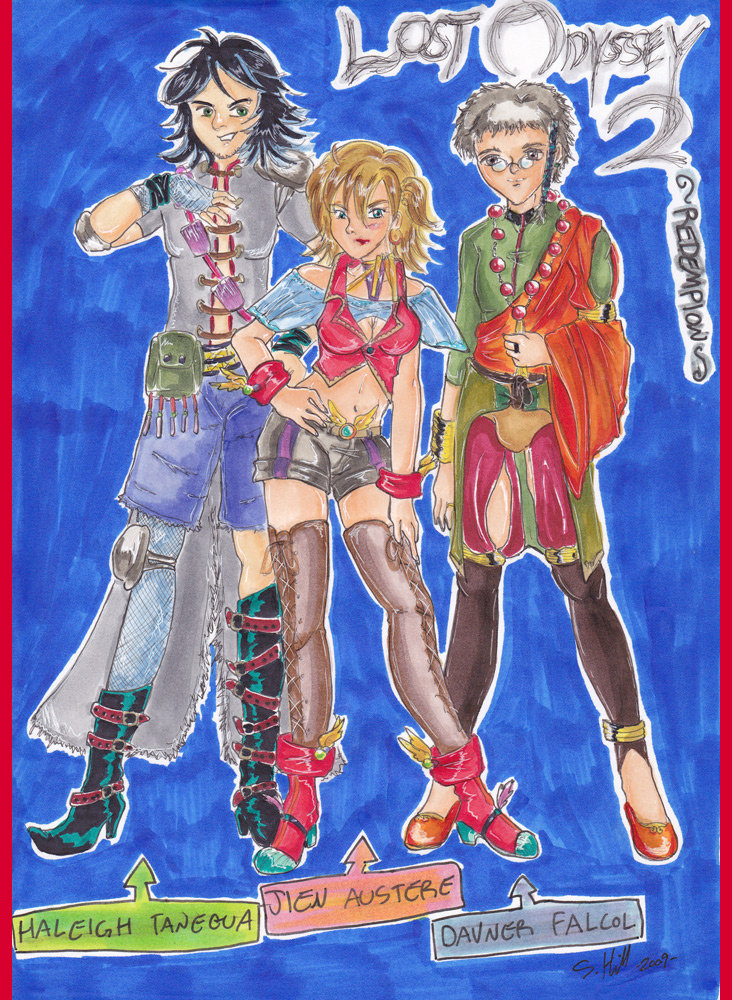 Description
- Canson bleedproof paper
- Copics
- White gel pen

I drew this more to get my idea out on paper, but if you get something out of it, all the more better!

I'll quickly explain the world of my Lost Odyssey 2 idea, to explain why the hell there would be more immortals:

~ @ ~

It's set around 18 years from the end of the first game, and centers on three immortals who came before the ones we're familiar with. They were scientists set with the task to test out the bodies they had designed for the investigative team. While it was a success, they had spent around 100 years of living as humans and each had reasons for not wanting to return so soon to their world.

So, they sent their data, made sure it was safe for the investigative team to step into the world and went their separate ways. The catch, however, was that their bodies were unstable, as they were supposed to be temporary, so every few hundred of years their memories are wiped and they are forced to begin life anew. And the more they remember the heavier their hearts become, because they know it signals the closer they come to losing themselves again.

~ @ ~

I haven't named all my battle team yet, though I do have their personalities secured in my daydreams:

IMMORTALS

Jien Austere - Sword, essentially the new Kaim. A police woman from Gohtza, very professional, strong, distant, with a lingering longing for sweet death, though she doesn't understand why. She believes she is losing her mind when she perceives an apparition is haunting her.

Jien, the lead character, turns out to be the first queen of Uhra, then named Uhskara in her initial incarnation. She'd known Talon, the man who would become her husband, the Golden Knight, since he was a toddler, and since he found her name hard to pronounce, he nicknamed her "Uhra". Jien was the one who set up the seals from the first game, to test future kings of Uhra, and her longing for death stems from her longing to be with him again.

Furthermore, she is the twin of Ming...at least by the standards of their original world, where in rare cases a being can split into two and share the same soul. After Ming entered this world, Jien placed a birthmark on Ming's chest and a similar one on herself so that one day they would meet and know each other.

Davner Falcol - Staff, quiet, wise, forceful with only a glance. He is a monk devoted to the welfare of the people he comes to adopt as his own, regardless of the incarnation. He has devoted himself to caregiving, as an immortal, he rarely experiences the pains of life firsthand. When dealing with the party, he tends to talk in riddles and allow his companions to discover solutions for themselves - in their surlier hours, they suppose he's a useless bullshootter who picks out random phrases and pretends he's a zen master.

Haleigh Tanequa - Sword, violent, hot headed, loyal, quick witted. Known for generations as the "Bandit General". He has been blamed for the deaths of hundreds and is wanted for questioning in Uhra for an attack off the coast on several merchant vessels. After Jien arrested him in Gohtza, she and her rookie were tasked with taking him to Uhra for questioning. In reality, he has been battling the Cult of Gongora, and in the process has been painted as a terrorist.

Minerva "Mina" Numara - Staff, spirited, stubborn, good humoured, emotional. The first of four children of Ming and Jansen, she was believed to have died of a fever the year prior. As she had neared death, Mack used Spirit Magic to put her body in stasis and remove her soul, commanding it to attach to the relative who needed her most, assuming it would be one her parents. The soul disappeared, only to reappear a year later, connected to Jien's soul, and given flesh with the meeting of the two women. Because she is connected to an immortal soul, she functions as an immortal.

MORTALS

Mack - Discus/Spirit Magic, introverted, aggressive, determined, kindly. After leaving the security of home, Mack ventured into the world to hone his powers and has spent much of that time in the Temple of Enlightenment in meditation. It pained him to see Mina, a girl he admired and secretly loved, dying before him, just as his mother did, and was determined that this time would be different. Following the disappearance of her soul, he returned to the Temple to hone in on its whereabouts.

Rookie Cop - Staff/Black Magic, naive, studious, overly serious, uncreative. This fresh faced young man is the sort who revels in rules and regulation, and disapproves of variations to his ideals. He idolises Jien and can often be seen taking notes after an important event, usually to praise and study his mentor's actions. During his travels he finds himself increasingly disillusioned as he realises the world is far more complex, with good and evil difficult to judge.

Enchanting Diva - Staff/White Magic, demanding, theatrical, shallow, sensitive. A star of the stage and her own greatest fan, she insists on the best at every turn. The diva joins the party when her latest company are attacked and hospitalised by the Gongora Cult. She proves her chops as a brilliant actress when it revealed she is the child of Gongora and was blackmailed into entering the party to spy and sabotage their progress. The diva didn't enjoy her task, especially as she despised her father, and especially hated the use of her person as a mascot to the Cult for sharing his blood.

Prince Seth - Gun, adventurous, fearless, bratty, to-the-point. The ten year old son of Tolten, Seth has been raised with a lot of personal freedoms and developed a taste for exploration, having spent much of his life in the tutelage of Grandpa Sed. Seth is understanding and proud of his parents, who work hard for the sake of Uhra and greater world, however, he is lonely, and fears he is selfish. The Prince's world shatters when Sed passes on, leaving his weapons to the boy, being the closest he ever got to having a grandchild.

Queen of Uhra - Spear, unrelenting, warrior, with honour, calculating. Met Tolten when she accompanied her friend and arranged bride to be to the King of Uhra. She was the Captain of the Royal Guard for a small, financially sufficient, yet insignificant kingdom. The queen spends the majority of the story treating the party as a pack of terrorists and leading the charge to hunt them down. While feverishly trying to retrieve her son from their evil grip, she discovers inconsistencies in the reports certain ministers hand her and vows to destroy the Gongora Cult, before it can unravel Tolten's hard work.
General Info
Comments
1
Media
Ink or markers
Time Taken
Reference