Lost Odyssey 2 - Lucienne and Tobias
Lost Odyssey 2 - Lucienne and Tobias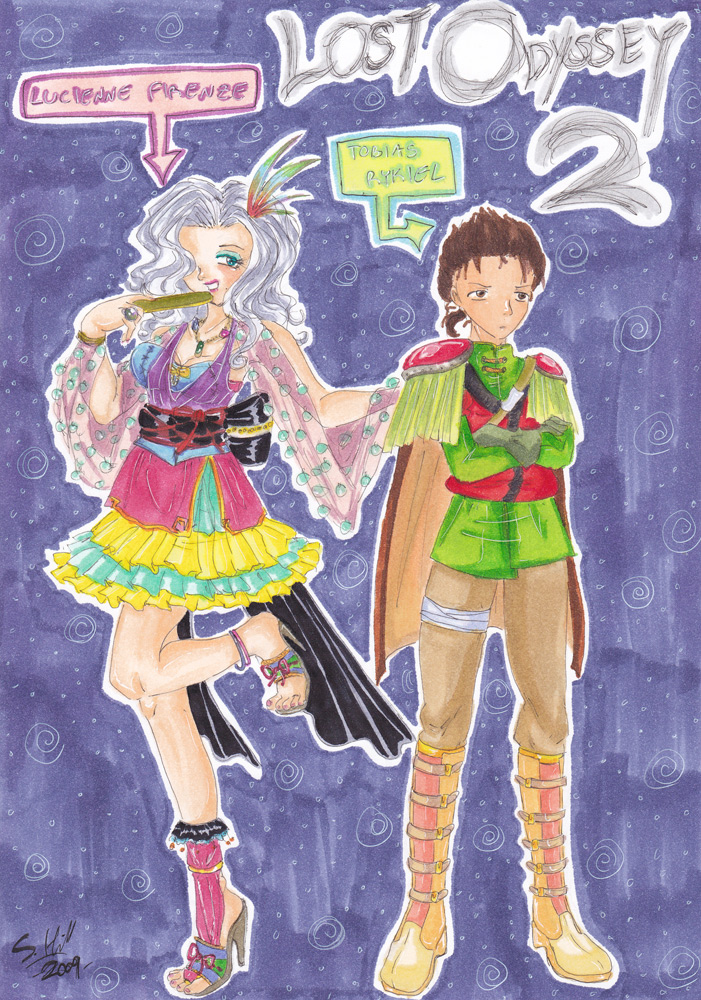 Description
- Bleedproof paper
- Copics
- White gel pen

Two more party characters for my Lost Odyssey 2 idea. These are the so called "Enchanting Diva" and "Rookie Cop". The reason these two are grouped together is due to Lucienne, the Diva's, insistence that Tobias, the Rookie, become her little brother and call her "Big Sis". She has strange whims.
~ @ ~

LUCIENNE FIRENZE

Luci is a starlette of the the stage in her early 30s, and serves as the party's mortal white mage. She joins the party when her company is attacked and hospitalised, vowing revenge.

Later it is revealed she is the daughter of Gongora and was approached by the Cult of Gongora to spy on the small group who are hindering their plans. She refuses, being she hated the man and wishes to distance herself from her father's memory. They threaten to destroy all she holds dear if she refuses to comply. Luci ignores the threat.

While on the road, her company is struck down by a sudden, fierce hail storm. Lucienne is made to hide under her carriage as she listens to her friends and the horses being bludgeoned. When the storm finally lets up, Luci races out and hastily uses her healing spells till she falls from excessive exertion. Luci understands how serious the Cult is, and so joins the party to spy and sabotage their efforts.

~ @ ~

Lucienne is melodramatic and comes across as exceedingly shallow and egotistical. Once you get to know her, you also see that while she is a narcissistic egomaniac, she is also a selflessly devoted to helping people, which is why she has trained in white magic.

During the events of Lost Odyssey, Lucienne was a young teenager, living in a small city with her nannies and servants. She was rarely invited to journey to Uhra and Gongora was usually too busy to see her.

Lucienne's mother was also famous actress, and entered a secret marriage with Gongora, made secret for the sake of both their careers. Her mother passed away when she was six, tragically falling offstage and breaking her neck. Whispers said it was murder, though nothing was ever confirmed.

Gongora was apathetic to her death, and handed his daughter to others to raise. Lucienne was infuriated, more for his apathy than his abandonment. And these feelings grew and twisted into hatred - and fear, for his mounting insanity.

- - - - - - - - - - - - - - - - - - - - - - - - - - - - - - - - - - - - - - - -

TOBIAS RYKIEL

The group's black mage, Tobias is a proud Gohtzan citizen in his early twenties, was recently made Sargeant at his precinct. Since he joined the force he has been enamoured with Chief Inspector Jien Austere, admiring her passion for justice and the laws of the land.

Tobias has an obsession with rules and order, and despises situations he cannot control. It all stems from his childhood; he lived a hard, but enjoyable life in Low Town with his parents and older brother. His parents lost their lives when Gongora froze over Gohtza, and later, lost his brother, when he fought his way through a blizzard and monsters, to get Tobias to the safety of the refugee camp. He never recovered from the trauma and today does not deal well with the unexpected.

He was honoured to be chosen by Jien to accompany her to Uhra with the recently captured Bandit General, Haleigh Tanequa. His honour turned to increasing horror when Jien uncuffed the prisoner and doubted his alleged crimes.

Tobias finds himself distracted when starlette, Lucienne Firenze, becomes attached to him and dubs him her little brother. From then on, much to his irritation, he acts as her babysitter/bagboy/handmaid.

When it is revealed that Lucienne is the daughter of the man who murdered his family and destroyed his city, he realises how important she had become to him, and his sense of betrayal overwhelms him.
General Info
Comments
0
Media
Ink or markers
Time Taken
Reference