Lost Odyssey 2 - Mina Friedh
Lost Odyssey 2 - Mina Friedh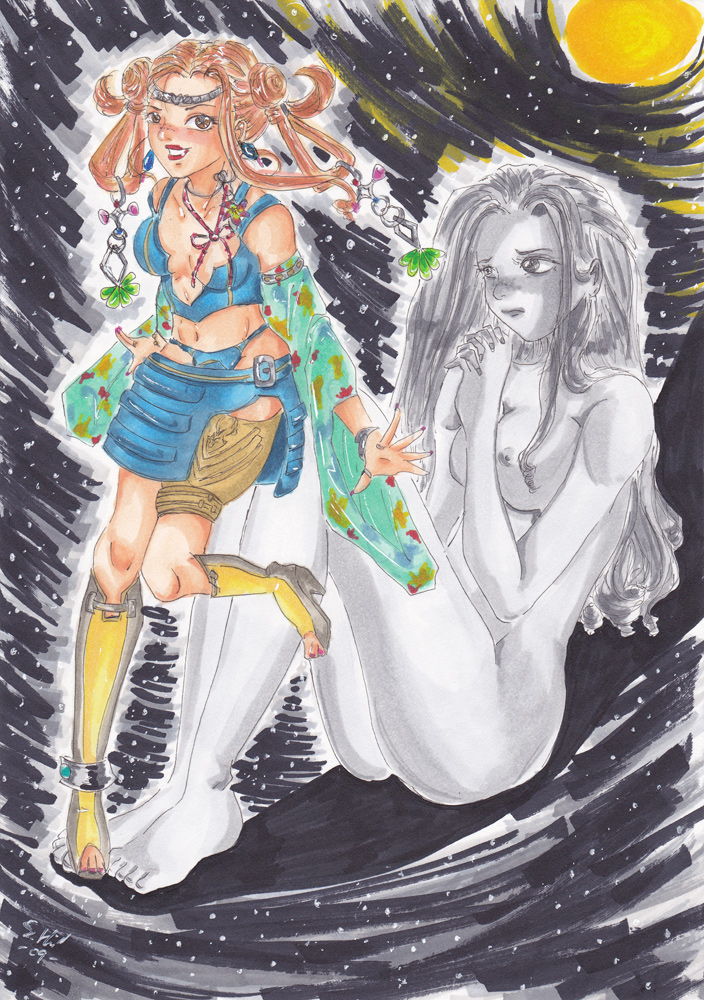 Description
- Canson manga sketch pad
- Copics
- White gel pen

Yay, I finally drew another Lost Odyssey 2 character! Only two more party members to go.

This is Minerva "Mina" Numara, the first Princess (ever) of Numara and the first of four children. She''s perky, talkative, emotional, contentious, and suffers from typical teenaged immaturity. She is currently 17 and has returned from a year long absence.

A year and a half prior to the main story, Mina was struck down by an incurable illness and battled against it for half a year. Eventually she slipped into a coma and awoke to a world of ever darkness. Little by little the dark world around her lit and she could make out an expanding glowing doorway.

As the strange dark world began to see light, Mina became aware of the presence of a woman named Jien. She experienced her emotions, sometimes saw through her eyes, and saw flashes of past memories. Jien was the key to finding her way home, however attempts at communication brought few rewards.

Mina eventually found her way through the glowing door when she could feel the full force of her mother''s and Jien''s power. Mina, who a soul, was now flesh and terribly frustrated and confused.

During her final days of life, Mina''s soul was removed and her body put in stasis via forgotten spirit magic, performed by her friend Mack. Her soul, which longed for life, attached to Jien Austere, an immortal who wished for death.

Mina''s mysterious illness is identified by Lucienne Firenze as a lab created disease by the Cult of Gongora. Their goal was to severely distract Queen Ming by killing off one of her children. A drawn out illness was decidedly most effective to induce trauma, and the eldest was selected for the likelihood of surviving the longest period.

The people of Numara were led to believe the princess had been sent away for specialist treatment. During the year of Mina''s absence, Ming sunk into a depression, blaming herself for losing her daughter''s soul. The Cult had achieved their objective, though they had underestimated the role of king, whose strengths lay in interpretting data and cutting through general bullshoot. Thanks to his level head, Numara did not make rash choices and remained neutral throughout the growing hostilities of its neighbours.

Mina joins the crew to locate an antidote, and fight the good fight. She travels under the name Mina Friedh to not draw attention her return. Her strength is magic, and due to her soul''s attachment to Jien, she acts as an immortal.
General Info
Comments
0
Media
Ink or markers
Time Taken
Reference