Lost Odyssey 2 - Mack and Seth
Lost Odyssey 2 - Mack and Seth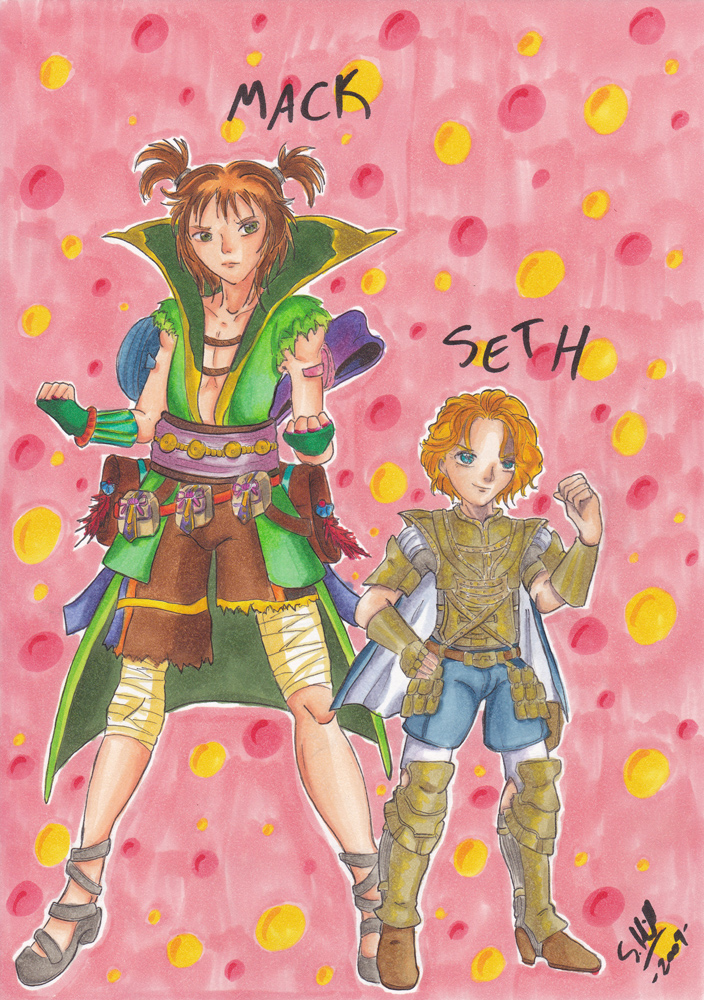 Description
- Canson Fanboy manga paper
- Copics

Finally! The party is now complete. Yaaaay! Here we have 28 yr old Mack, yes, all growed up, and 10 yr old Prince Seth.

MACK
Since the first game, Mack has dedicated his life to studying the ruins of the Eastern Tribe and strengthening his own Spirit magic. His research is sponsored by Uhra, with the expectation of his findings being of benefit to the state's already innovative magical devices.

When Mack put Princess Minerva's body in stasis, losing her soul in the process, he raged at his incompetence and fled to the Temple of Enlightenment. There he meditated until he was able to locate the carrier.

The process took months; Mack was frail and exhausted much of his power. When he joined the party, he explained his profession and asked to tag along, as he was also travelling to Uhra. Jien didn't trust him, but allowed it, since his magic could prove useful. During the journey the two played cat and mouse, trying to figure the other out. Mack couldn't understand why Minerva's soul would attach itself to a random stranger, and Jien was convinced he was a spy for the Cult.

SETH
On first impressions, Seth is a typical prince - highly educated, polite, and respectful of his obligations as a future monarch. On a second glance, you see a typical boy - adventurous, rough and terribly nosy.

Seth has inherited the skills and guns of the now deceased pirate Sed, who was very much a grandfather to him. Though he is young, the prince trains his body to hold the massive weapons, and practices his shot daily.

Seth holds great pride in his father's work abroad, and the strong leadership of his mother, who is not of noble birth, yet earned the respect of Uhra's ministers. He worries he is not up their standards, and is selfish, because he would rather they spent more time with him.

The prince joins the party when he is caught up in a Cult plot, but mistakes Jien's crew as the villains. He attacks them, planning to bring them to justice. Following his defeat, Jien, sensing a strong connection to the child, says they will protect him till they can get him safely home.

Seth enjoys the adventure and the heat of battle. The inclusion of his mother into the party is both a blessing and curse; she offers motherly security, but at the same time, is overprotective and dismissive of his ability to comprehend the seriousness of the position they're in.
General Info
Comments
0
Media
Ink or markers
Time Taken
Reference