Lost Odyssey 2 - The Villains
Lost Odyssey 2 - The Villains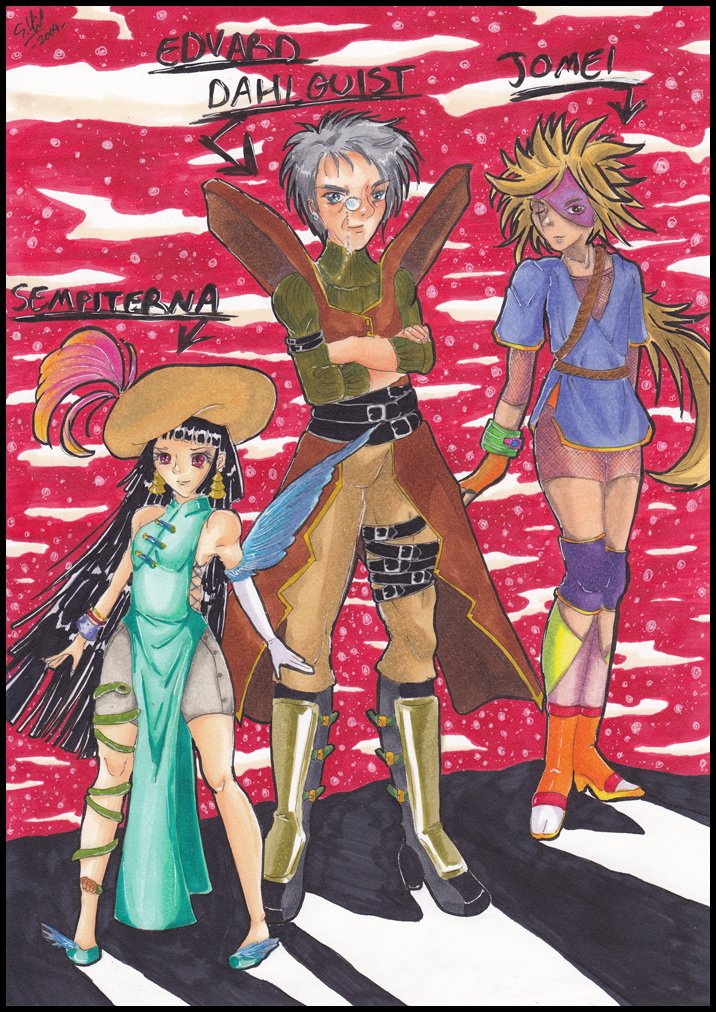 Description
- Canson Fanboy manga paper
- Copics

Presenting the villains of my Lost Odyssey 2 idea! Do read the descriptions and tell me what you think.

EDVARD DAHLQUIST
Edvard Dahlquist is the proud Commissioner of Police of the Metropolis (or Metropolitan Police Commissioner) for Gohtza. He took his rank 16 years prior when Gohtza, burdened with little leadership, became a haven for the lawless. Gohtza''s police force is now considered more influential and powerful than many armies of leading nations.

Dahlquist is publicly trying to destroy the Cult of Gongora, while secretly leading the very organisation. During the events of the first game, he was Gongora''s chief scientist and oversaw the construction of the various Grand Staff projects. Gongora had assured Dahlquist that with the completion of Grand Staff, his most loyal followers would receive immortality.

With Gongora''s defeat, Dahlquist fell into a destructive depression, turning to drugs and booze. One winter, ss he lay drunk and dying in the snow, a curious little girl came upon him and finished him off. He was resurrected and with a giggle, the girl assured him that Gongora was still them, if only in spirit.

Together they have nurtured an organisation dedicated to seeing out the Grand Staff project. Whereas there once great staffs above the earth, now they are below. Their goal is to open a gate to this other dimension and seize the power of immortality.

Several years ago the Bandit General, Haleigh, became suspicous of activities in his region and together with his men, investigated. Hal made it his mission to destroy this Cult, and to counteract his activities, the Cult made itself known, but named Hal as its leader. From then on, they utilised public mayhem to deter authorities from their worksites.

Dahlquist is unaware that his most trusted detective, Jien Austere, is immortal, nor is he aware of the other two immortals. It was quite a boon to capture Haleigh, and in turn strengthened his confidence from the major nations.

SEMPITERNA
The true villain pulling all the strings; Sempiterna is Latin for "eternal", fitting for a being created by the magical distortion of a clash of immortals.

Sempiterna came to being during the final battle of the first game. She has taken the form of an infantile 14 yr old girl, and holds a dim view of human nature. Like the people of dimension behind the mirrors, she views emotion as a virus, but seeks to cure it, not investigate it.

During the course of the story she acts as Dahlquist''s eccentric lackey, though she is actually his adviser and magical benefactor. While he plans to conduct the magic of the world to open a gate, she plans to use the Grand Staff project to remove emotion and personality, thus creating a logical paradise where humanity will surely prosper.

JOMEI
Jomei works directly for Dahlquist, lurking in the shadows, ensuring Grand Staff is not disturbed. He has been charged with causing confusion when there is danger of the project being discovered. For example, he led the attack on Uhran merchants when their base was disturbed, and poisioned Princess Minerva of Numara when the Queen was making enqueries into seismic disturbances off the coast of Numara.

Jomei does not desire immortality, he wants revenge. The young ninja blames the grand nations of the world for the destruction of his village, which fell to a volcano. Scientific analysis predicted it would not erupt for at least two hundred years. Due to magical imbalance, the volcano erupted much sooner.

There were very few survivors, and because of their remote location, aid was slow to arrive. In that time all but Jomei had died of their wounds and starvation. Jomei was taken in Dahlquist and promised revenge would be his.
General Info
Comments
0
Media
Ink or markers
Time Taken
Reference