Lost Odyssey 2 - Uhskara and Talon
Lost Odyssey 2 - Uhskara and Talon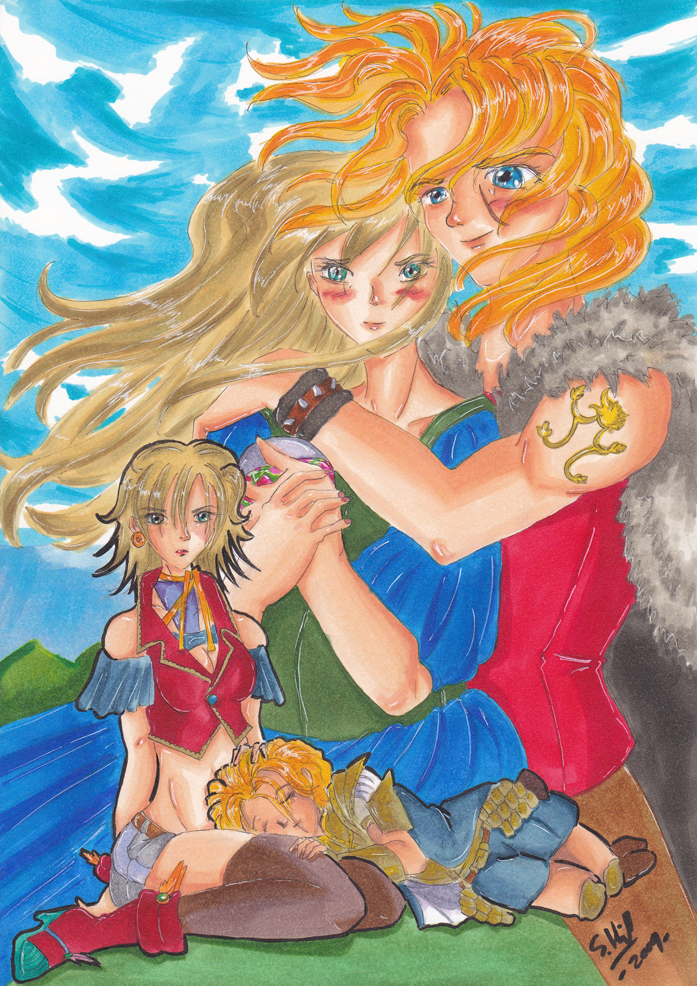 Description
- Canson Fanboy manga paper
- Copics
- White gel pen

More Lost Odyssey 2 stuff. Does anyone actually care...? Oh well, this is terribly fun and great to get outta my head!

Over a thousand years ago, Jien Austere was known as Queen Uhskara, the first queen of Uhra.

The first king, the Golden Knight, Talon, was a brave and optimistic man. He was also terribly stubborn and had insisted since he was a child that Uhskara would be his wide one day. She had laughed it off and continued to do so, even when he was a grown man.

Talon, aided by Uhskara, led several clans to victory over invaders, and swore to bring the clans together into one great power - Uhra. So named for the woman who weaved her magic against their enemies, and wove threads inside their hearts. Once again, he informed her that she would be his wife, and now, his queen. Amused, she accepted he was now a grown man and bowed down to his childish demands.

Talon died a very old man; it was difficult to see her husband so haggard and frail. When their eldest son claimed the thrown, Uhskara, who had gone to lengths to hide her youthful appearance from the public, feigned suicide. From there she guided her son from the shadows, and then her grandson.

Her grandson was concerned he would not be able to live up to his father or grandfather, and felt he did have not have the strength to be a great king. This prompted Uhskara to create the gold obelisks across the globe, allowing him and his descendants to grow stronger, and face a vision of the first king.

Shortly after creating the obelisks, Uhskara fell into a coma and soon appeared dead. Her grandson had her buried in her once empty tomb. She lay there for a year. Uhskara awoke one day, dazed and horrified by the darkness. She reacted with a magical blast, and made her escape.

Uskara had lost her memory; she walked the dusty city of Uhra, recognising nothing, and was given shelter by the wife of a merchant. The woman named her Jien, which she would have named her daughter, if she'd had one. She taught "Jien" how to cook and secured her a position on her husband's ship.

And so began what would be a long string of incarnations. She always had papers on her, so she always kept the name Jien, yet the surname did change regularly. Never due to marriage however, a yearning for a man in her heart always weighed her down and held her back from accepting the advances of others. Sadly her past would only become clear the closer she came to seeing her memory wiped. The remembrance of Talon always marked the end of her current life.

Jien Austere is overcome with longing and dread when she looks at young Prince Seth. When the memory of his ancestor returns, she begins to count the days when she will lose it all, and is in a race against time to destroy the Cult of Gongora's plot before she becomes useless to their cause.
General Info
Comments
0
Media
Ink or markers
Time Taken
Reference