Orenji Ringo, The Phoenix Mew
Orenji Ringo, The Phoenix Mew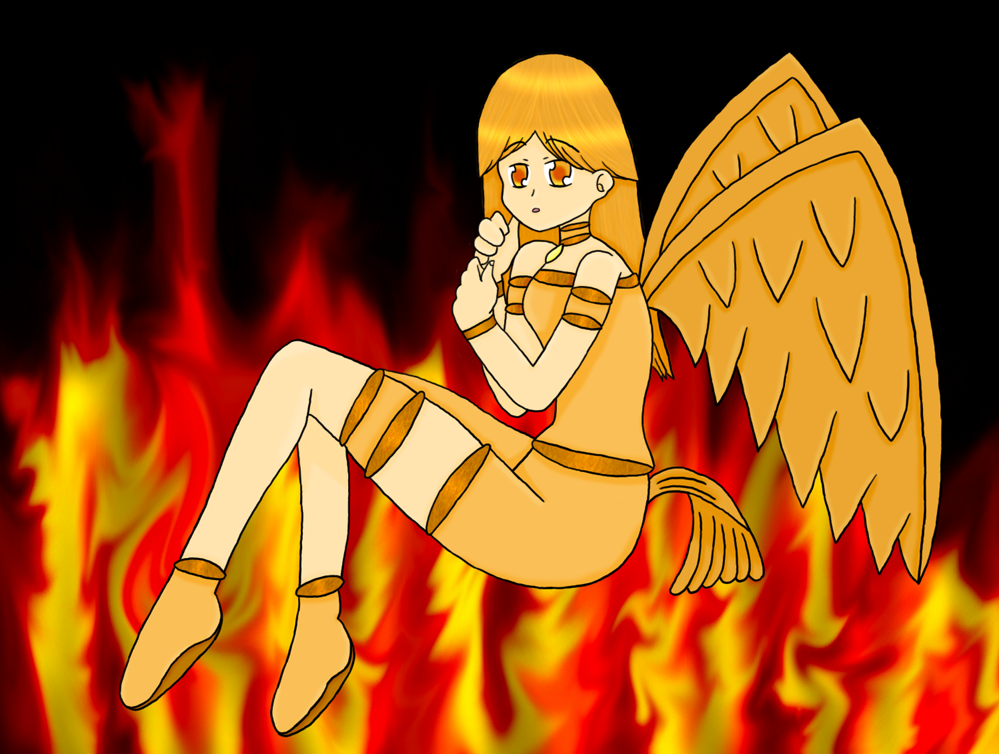 Description
Hey guys. It's been a while, not that I've been all that popular around here anyway. I haven't gotten any comments, favs, or scores on my last two pics. That makes me sad. *sniffles*
Regardless, I'll chance posting some more, especially since I'm really proud of this pic and the next one I'll post in a minute.
Well, to start off, most of you probably won't recognize her at all. I've drawn her four times. The first three were in February of 2008. The fourth time was in November of 2008. This is the most recent version of her and lots better than the original pictures.
Now, before I go on to talk about her, there are some technical things I need to approach. Number 1, I used the following reference:
http://amuchii-bases.deviantart.com/gallery/25487700#/d2nv2b1
I would've used the original picture, but it was too small to see, so the base it was. Number 2, I can't draw nor shade nor highlight feathers or fur, so I apologize for the fur on the edges of her clothes and bands, and the feathers on her wings and tail. I fail at them XP Number 3, I used the following tutorial on DA to get the fire right:
http://windancer53.deviantart.com/#/der2ew
It was very helpful and I'm grateful to have had it.
Alright, now onto some technical stuff about this character. First off, this character is an OC for Tokyo Mew Mew. Second, her name is Orenji Ringo, which is Orange Apple in Japanese. If anyone knows anything about TMM, they know all the important characters are named after food. I chose to call her Orenji mainly because orange was a color I could work with that didn't match a color one of the five mews already had. As for the reason for choosing a phoenix for her animal, at the time, I was obsessed with phoenixes (still am). I just can't bring myself to change it. As for how Shirogane got hold of phoenix DNA, well, if aliens exist, why can't phoenixes? Maybe they're super rare and everyone thinks they're legends. I don't know, I just know that I really like her the way she is, so although it's a Mary-Sue quality, I'm not changing it. The last thing for this will be the discussion of her pants. They are shorts with the right side longer than the left. Why? I don't know XP Just because.
Just so you all know, although I'm not happy with the fur and feathers, I am proud of the eyes and hair and her skin doesn't look too bad. I think my coloring is steadily improving. I'm VERY proud of this picture, minus the mini drawing mistakes that bug me.
Alright, now I'll put up a mini bio so you know about her. And just as a warning, anyone who protests to her love interest will be immediately shot down then ignored. The top two reasons I create OCs are to either 1) mess up the canon storyline because I'm not happy with it (pretty much my YGO and HP OCs), or 2) because I want to pair a character with either my favorite character or one of my favorite characters (it's better to just keep my self-pairing RPs in my head XP).
Just a note before I begin, I've put Orenji in high school because I don't like romance in middle school or junior high. That's just weird to me and I don't like it. So yeah.
Name: Orenji Ringo
Age: 15
Height: 5'4"
Race: Japanese
Family: Nikushimi is her mother, Enkatsu (male) and Senritsu (female) are her 8-year-old twin siblings, and she has an unnamed father. Her parents are divorced and Nikushimi is almost never home. Their maid, Kirei Yang, raised both Orenji and helps Orenji in the act of raising her siblings. Her mother is really strict and slightly abusive. Orenji hates her mother. She doesn't know of any other family members.
Love Interest: Kishu, UraharaShipping (I know this one has been used before, but I didn't know that at the time, so I'm keeping it).
Mew Form: Animal is phoenix, has phoenix wings and tail, mew mark is a small, pale orange phoenix on the front of her left shoulder, weapons are called Orenji Staffs (two foot-long staffs topped with hearts), first attack is Ribbon Orenji Flame, second attack is Ribbon Orenji Sun, and has a third attack that she can only use when an emotion is very passionate called Ribbon Orenji Nova (only one recorded use).
Short Background:
- When she's in human form, her eyes are light brown and her hair is strawberry blonde.
- Despite being fused with a phoenix, she's deathly afraid of heights. She'd rather swim, which she's actually good at.
- She didn't like Kishu at first, but due to the awesome storyline I put together that I'm not sharing with you, they eventually fall for each other.
- She attends the same school as Lettuce and they are best friends.
- She likes kids and can't wait to be a mother. She hopes she'll be tons better than her own. To be able to own a day care is her dream.
- She doesn't get along well with teens her age and doesn't make friends easily.
- She can't explain why, but she never really liked Ichigo to begin with and slowly grows to hate her, especially with Ichigo's passionate hatred of Kishu, whom Orenji falls for.
- Before becoming a Mew and working at Café Mew Mew, she worked at the Seaweed Café because her mother wanted her to learn to fend for herself, though her mother doesn't want Orenji to have friends. Her mother keeps her isolated from others, even in school.
- Kishu actually kidnaps her at one point in the beginnings of their relationship.
- She uses her third and nearly impossible attack in the Christmas arc of TMM. The explosion causes her to fall into a coma for a short period of time.
- If you know anything about phoenixes, you know that their tears have healing powers. Whenever Orenji is in Mew form and feels passionate sorrow, orange-glowing tears that contain healing powers fall from her eyes.
Well, that's all I can think of to share for the time being. You're welcome to ask questions 'cause I have almost her entire storyline measured out. I love rereading it for some reason. Anyway, if you have questions, ask away. I hope she's not too Mary-Sue and I hope you all like her!
Before I end, I'd like to say that the Halloween picture I mentioned in the last picture I posted isn't going to happen. Instead, I'm going to draw my FusionShipping pairing (Dhamen and Keiko for those of you who don't remember). And I don't think I'll get a Christmas pic this year (not that I ever have, but I thought I'd point that out).
Comments? Please? Anyone? Please?
Orenji Ringo, Nikushimi, Enkatsu, Senritsu, Kirei, Fire, Atemu Bakura, Teana, Art © KelekiahGaladrian
Kishu, Ichigo, Lettuce, Tokyo Mew Mew © Reiko Yoshida, Mia Ikumi