Sakishita - "Atina-chan. . . ." *drool*
Sakishita - "Atina-chan. . . ." *drool*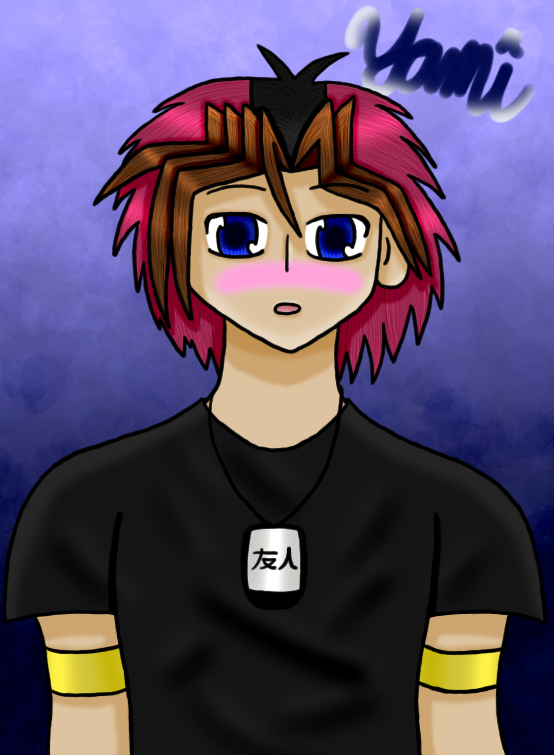 Description
IMPORTANT EDIT AS OF 5/31/2011: This character, formerly Yami, has been renamed Sakishoota. Ignore the name in the top righthand corner.
Blah blah blabbity blah, something about redoing pictures, don't know why I'm posting, etc etc, moving on.
You can see Sakishoota's bio and the original SG Trio picture here:
http://www.fanart-central.net/pic-789937.html
In this redone picture, you can see that I gave his hair more life, it actually has proper strands in the coloring instead of that THING from the last one, and the highlights look much better. You can see his pupils now and tell that he has wide eyes instead of whatever I was doing in the previous version *facepalms at self* I fixed his shirt so the sleeves come down to relatively the same place instead of the HUGE difference from before. I also fixed his arm bands so they go in the correct place and are relatively the same size. Sakishoota also happens to be a BALLROOM DANCER which means he DOES A LOT OF LIFTS which requires him to have UBER MUSCLED ARMS, so I finally put those in *smacks self for idiocy* His shirt looks better, but I think Dhamen pulls that look off a little better. There's also a nice background. And look! His dog tag actually has something on it! Oh! How important!! *slams self into wall* I'll talk about that in a minute. AND LOOK!! HE HAS A BLUSH!! I can't do drool, so a blush was the next best thing. That I can do.
Like for Dhamen, everything I fixed on this picture as far as the lineart goes was done completely digitally. Again, I did it on my tablet. Again, I wish I could draw digitally.
Alright, here's a little tidbit for his dog tag. I needed to put something there that fit him. So I thought about his personality. He's a big friends person, influenced from his mother. So I looked up different versions of the word "friend" in Japanese. This particular form of the word is "yuujin." I can't tell you how hard it was to get the symbol right. I still think it looks off. I used jisho.org to find it, by the way, in case you're interested at all.
So yeah, there we go. Sakishoota is 17 years old, 5'6", and is absolutely fascinated with Atina, so you can't have him, fangirls.
Oh yeah, before I forget, better talk about the picture's title. Um, I have a set of dialogue that goes with the combined picture. It's in the previous SG Trio picture. That's not the exact dialogue from it, but it's close enough. And it made me laugh.
Comments? Please? Pretty please? Anything? Maybe?
Sakishoota Moto, Second Generation Trio, Dhamen Bakura, Atina Bakura, Art © KelekiahGaladrian
YuGiOh © Kazuki Takahashi
General Info
Comments
0
Media
Digital drawing or painting
Time Taken
1-2 hours
Reference
None