Oh, My SHINee Girl!
Oh, My SHINee Girl!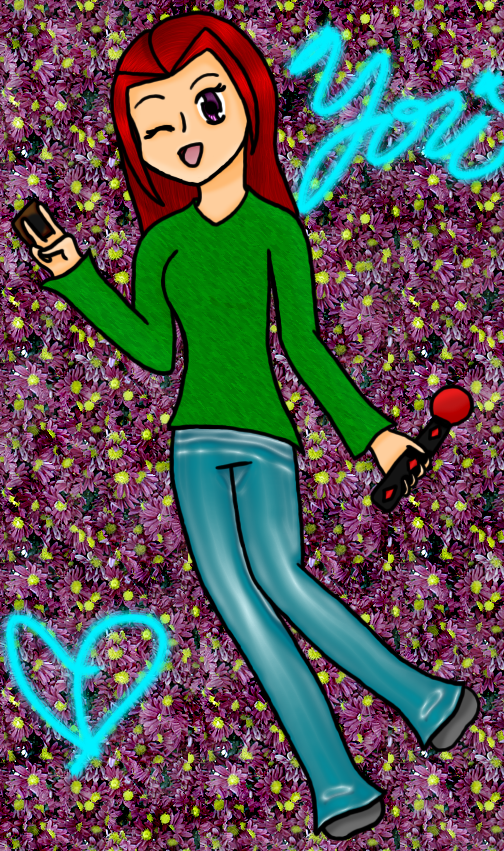 Description
Alright, last one for the day. This one needs lots of explanation too. The original was done way back when in March of 2009 XP WOW.
Again, this is Yori Moto, OC of YoriXYamiForever, my bestest best friend ever. Love her. I do too.
And now for technicalities. I actually redid this one before the picture of Cat, but I wanted to save this for last. Because I can.
You can find the original picture here:
http://www.fanart-central.net/pic-771045.html
but it's not really very good if you ask me XP
I redid quite a few things here, concerning the lineart, anyway. I'll list them for you: her facial structure, her eyebrows, her eyes, her nose, her mouth, her cheek, her chin, her bust, her torso, both shirt sleeves, her entire right hand, the card, the bottom of her shirt, her left hand, her pants, her socks, and the length of her hair. Like the picture of Cat, I didn't have a digital copy of the original sketch.
Concerning coloring and such, I changed the color of her hair, the color of her eyes, the color of the staff, the color of her outfit, and the background completely. Yeah. I think the shading and lighting looks lots better on this one, and I think putting the strands and highlights in her hair the way I did turned out really nice. I dunno if I mentioned this in the chibi picture of Yori, but Wulf-chan changed bits and pieces of Yori, including her hair color, her hair length, and the fact that she has 1-2 inches of black roots. Yeah. Those are too hard to include for me. I'm not good enough for that. So I left those out. Also, I really like the effect on the shirt. That came out really cool looking and I think it fits her. Very nice, I have to say. Very nice indeed.
Something about the face is a little off to me. I dunno why.
Alright, the pants gets its own paragraph because there's a big explanation that goes with it. I like the shade of blue I used and the way the shading and lighting came out. It looked really nice. Then to have extra fun, I played around with the filters in photoshop and decided to use my favorite: plastic wrap XD That's what created the shiny effect on her pants. That made me happy. I came back later to get ready to post this and thought about what to call it. Thinking about her shiny pants inspired it! My current favorite boy band of all time just happens to be the Korean boy band, SHINee, and the title comes from their song, SHINee Girl. I got really excited and thought I should share that. Hint hint, go look SHINee up. They have GREAT music.
So yeah, thought I'd share all that awesome stuff with you. I hope you love this picture as much as I do, and I pray you'll give me the lovely-ness that is called comments. Please? They make me feel good, they really do.
Art © KelekiahGaladrian
Yori Moto © YoriXYamiForever
YuGiOh © Kazuki Takahashi
SHINee Girl © SHINee © SM Entertainment
General Info
Comments
2
Media
Digital drawing or painting
Time Taken
2-3 hous
Reference
Picture with critique from friend