Amane's Getting Married? Impossible!
Amane's Getting Married? Impossible!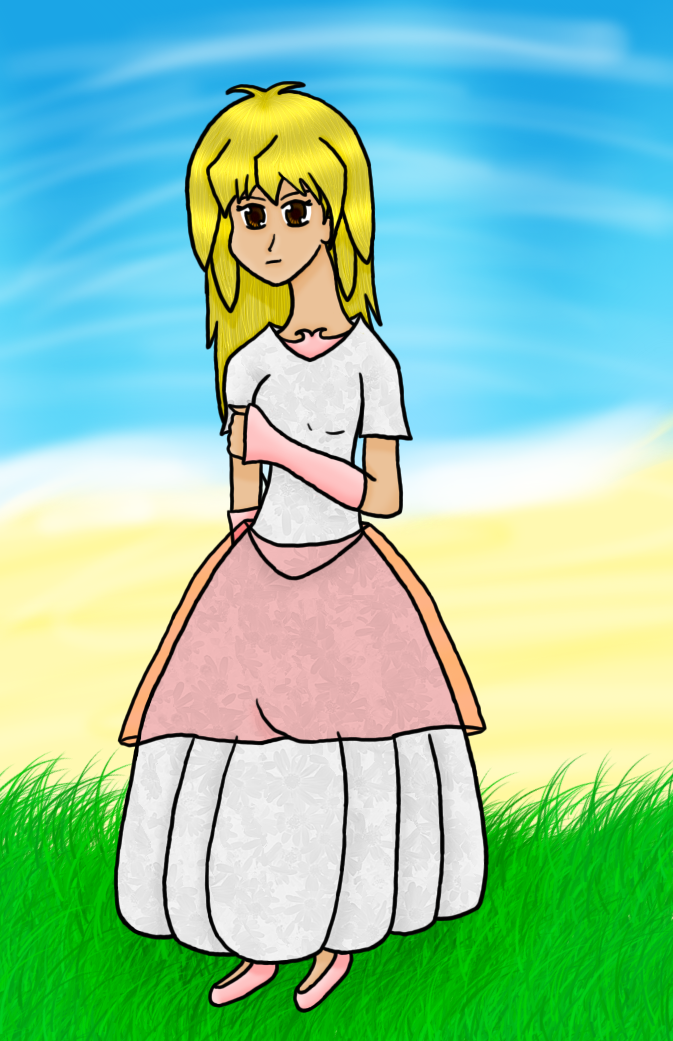 Description
I mentioned this picture in the last one. I still like the hair better in the prom picture rather than the wedding one. Oh well, whatever. Moving on. Again, I'm jumping right in.

At the beginning of her story, Amane is 17. When she gets married, she's roughly 23 or 24. According to Wulf-chan, she looks 19 or 20 in this picture. Oh well. Age differences are still hard for me. Either way, she's getting married, as the title says.

Speaking of the title, let me explain something. It was never expected that Amane would get married. Her family doubted it, her best friend doubted it, her siblings' friends doubted it, her Ka thought it impossible for her go on a DATE much less get married. Jai was the only one who believed he could bend her. And lo and behold, he was right (well, Keiko could bend Amane a little bit because they're best friends). But that's why they got married so late. It took Jai a long time to soften Amane. That's why she's kinda sorta smiling in this picture. Yay. Amane decided she didn't want to have anything to do with the wedding planning except for picking out a dress (see next paragraph for information on the dress), so she handed everything over to her sister since she wouldn't let Jai plan the wedding. Atina enlisted Trinity and Keiko's help and together, they decorated, made reservations, filed the orders, invited the guests, etc, but most importantly, they decided on a spring wedding on the beach (in April and Domino, to be exact, even though both Amane and Jai had gone to New York for school).

Now, as you have probably heard, Amane hates pink. But she couldn't find a red dress and wasn't willing to let her brother make her one, so she allowed pink to adorn her dress (because no matter how hard I tried, I couldn't get red to work, not to mention it's too dark for a wedding dress).

This picture takes place right after the wedding itself. Jai wanted to sweep her away to do whatever he pleased with her, but the females in his family group wouldn't let them. It was picture time. So Amane's standing on the grass right above the beach for a boatload of pictures. Jai's waiting off-screen until pictures have been taken to show off Amane's dress and such before they'll have pictures taken together.

The only other thing I feel I need to talk about is the background. I used the grass brush available in photoshop to create the grass, I used normal brushes for the sand, and mixed two ocean tutorials from DA to create that sorry attempt for an ocean you see at the top of the picture. It doesn't look too bad, but it could be better.

I drew this two months ago and colored it a few days ago. Just a thought.

Anyway, please comment. Even though I like her prom dress better, I'm rather proud of this picture and have been told the pattern on the wedding dress is cool, so you should all fav and comment and tell me whether or not you like it and what your favorite part is, etc.

Amane, Jai, Atina, Keiko, Trinity, Grim Reaper Death, Art © KelekiahGaladrian
YuGiOh © Kazuki Takahashi
For some reason, I can't find either of the two DA tutorials I used. I will keep searching for them.
General Info
Comments
4
Media
Digital drawing or painting
Time Taken
4-5 hours
Reference
Picture: Amane's Not Amused