What Shall I Do Today? (contest entry for luckylace222)
What Shall I Do Today? (contest entry for luckylace222)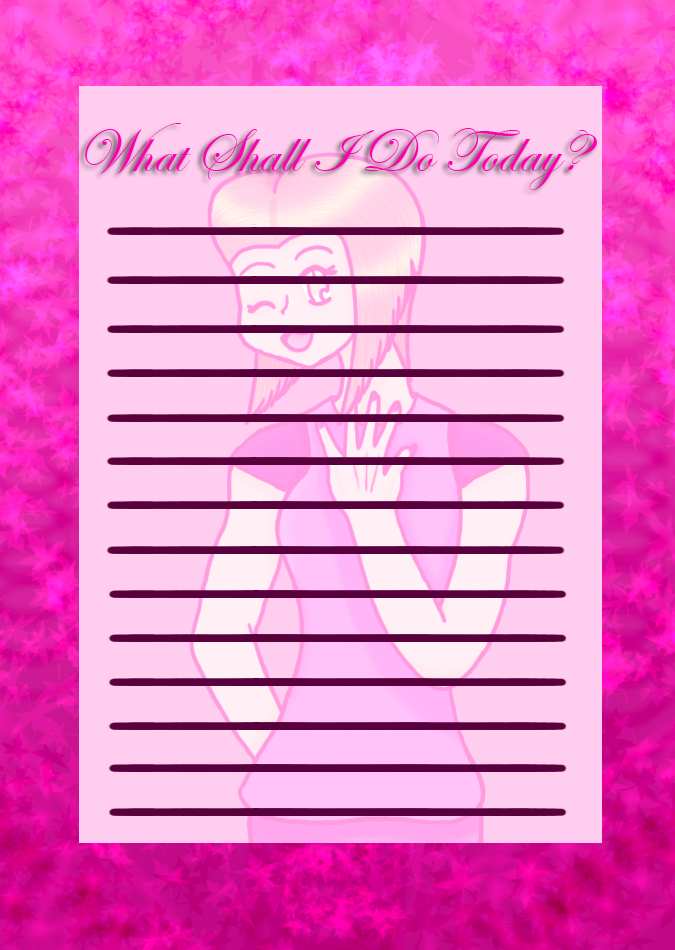 Description
Alright, well, I know I should have scanned the picture waiting in my sketchbook to color for you, but instead, I'm posting a contest entry for the amazing luckylace222!! You can find the contest here:
http://www.fanart-central.net/pic-809623.html
Luckylace has been very kind to me and I've done my best to support her as she has supported me. So when I discovered she was holding a contest, I thought I'd try my hand at it. Now, while I designed a literary magazine at one point, that doesn't necessarily mean I'm the best at designing. This kind of thing actually isn't really my forte, but I tried it out anyway. I'm not expecting to place in the contest, I just hope luckylace enjoys it :D
Just as a few notes:
I used the same size of the template luckylace offered for us.
Despite the fact that pink is not my favorite color in the slightest, it's a really fun color to work with. Coulda done purple (which is my FAVORITE color in the entire world), but thought I'd play with pink XD
I know in the point-system, it says that it must be organized so writing can be done on the lines, but the way that I did it has been done before in the professional world. I didn't think the picture in the middle of the lines was too distracting (especially with it so faint like that) and I hope it turns out okay. I wanted to personalize it, so I included that picture of my anime-self that I did (you can see a form of it here, though the one I used has no background:
http://www.fanart-central.net/pic-804530.html
)
If nothing else, I hope you enjoy it, luckylace!! Wish me luck, guys!
Art, Picture in the middle © KelekiahGaladrian
Contest © luckylace222
P.S. Had a difficult time trying to decide where to put this XP