Happy Birthday, Cat-chan~!
Happy Birthday, Cat-chan~!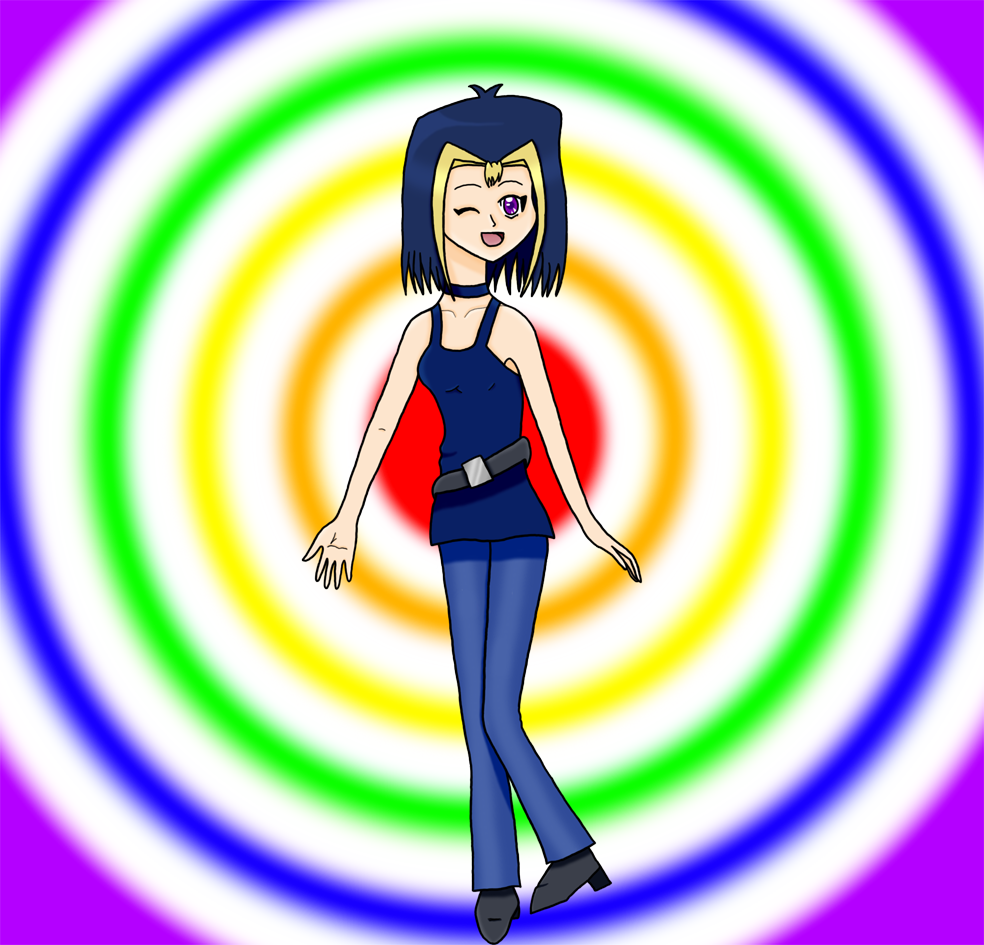 Description
This was drawn in February of 2012 and colored in March of 2012.
WARNING: This has been resized so some of the initial detail has been lost.
This is a belated birthday gift for my good friend Cat-chan. It's late. As usual. I'll do better on timing next year.
Kay-chan's gift is so much better than mine anyway, but oh well.
Anyway, I decided that instead of drawing Cat this year, I would try one of Cat-chan's other OCs. Mio fell victim to my urge.
Mio seems to me to be more of a solemn person who doesn't smile often (not a scowler like Kaiba, but just not a smiler). However, in reading over her information from her bio (which I will provide the link to in the credits), I discovered she likes to dance. That's what the pose is SUPPOSED to look like. I don't know if I succeeded or failed.
I am actually rather pleased, on the whole, with this picture. The coloring came out okay, the eye looks really good, and the pose itself is alright. But I must explain some things.
First, I didn't know how to color Mio's hair in my typical style, so I went as close to Cat-chan's as I could.
I referenced the eye from Cat-chan's eye sheet for her YuGiOh characters (which I'll provide the link to in the credits when I get down there), though the coloring is basically my own.
The pose (including the hands) was referenced from my own body in a mirror, so that's why the chest is really low. Also, I'm REALLY skinny and small in the chest, so that's why everything looks so small. I actually had to fix the right side in Photoshop 'cause the sketch was horrid.
The head is too big for the body. Sorry. I didn't realize that until after I'd finished most of the outline, including the lineart for the head :tears:
I think the legs get too small down at the bottom, and I know the feet are totally too small, and the left (our right) boot looks really wrong.
I still have lots of work to do on my art, it seems. I shall keep working hard to get better at this.
Please, don't ask about the background. Just know that I didn't know what to do so I did whatever I felt like doing at the time. Also know that it took me forever to get the pattern I wanted right.
Originally I wanted to steal a sunset from Google but that didn't work out since the one I wanted was way too small for this picture.
Art © KelekiahGaladrian
Mio, Birthday © Ejiputotsuki
http://ejiputotsuki.deviantart.com
YuGiOh © Kazuki Takahashi
Mio references and bio:
http://ejiputotsuki.deviantart.com/gallery/25757508#/d2z1d0t
http://ejiputotsuki.deviantart.com/gallery/#/d4kbe3n