hide and Tusk old school
hide and Tusk old school
hide and Tusk old school
by
Kerushi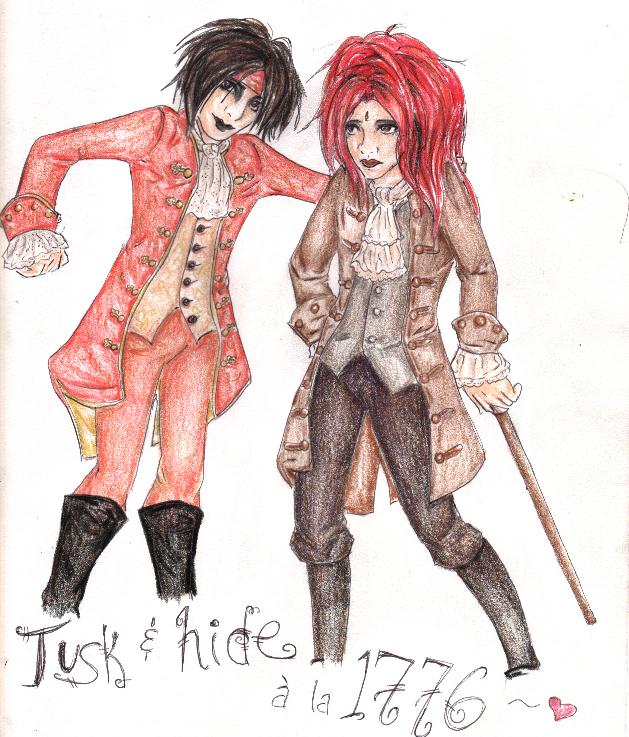 Description
Ha ha ha! Has anyone else seen this movie? I'm SO OBSESSED with it! If you could marry inanimate objects, I totally would want a dvd of 1776 as my spouse! XDDD
And so I had to draw fanart of it, but, as to be expected, turned into jrock. Bwa ha ha! Why hide ended up as Adams and Tusk as Lee, I'll never know. If I were to use jrockers as cast members for  1776, Adams would be Yoshiki, Lee would be...Chirolyn? Hopkins would be Pata (of course) and Rutledge would be Kiyoshi *double inside joke on that last one*
Put this under X Japan even though it's got Tusk, hope ya don't mind, but it just seemed to fit the best. Doesn't hide look smashing in colonial clothes? *giggle* They somehow don't suit Tusk quite so well though. I hope Tusk never sees this *yah right* because he's nothing like Lee from that movie! Alright, I confess. I just like to draw Tusk's hair. :)
This is quite possibly one of the weirdest things I've ever drawn. Well, along with my Jakotsu/Mana picture. XD
As I'm sure my insane1776 fangirling is getting rather annoying, I shalll leave you now ((and go off to read more 1776 fanfiction!)) but I remind you, that happy comments = happy Kerushi! *wink*
And you must all go see this movie now! ((especially if you like yaoi, there's a lot of fun stuff to think about in it. tee hee. Plus the fanbase is awesome they write the best slash. *more giggles*)) ta ta!
General Info
Comments
4
Media
Colored Pencil / Crayon
Time Taken
Reference
not really