Profile 2- Krimson
Profile 2- Krimson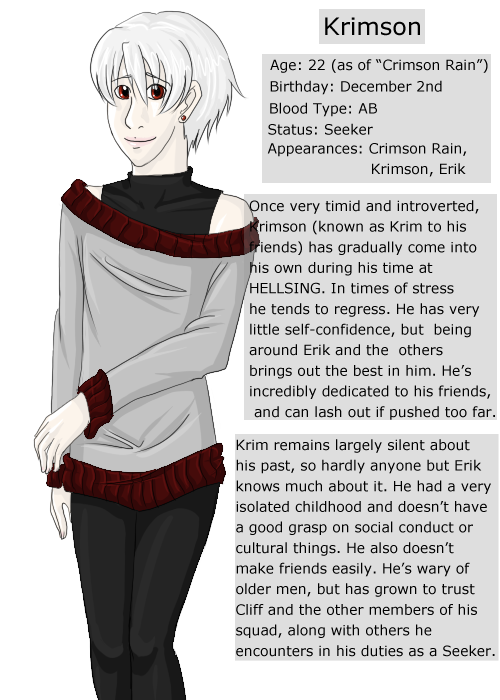 Description
And this is Krimson, Erik's husband/symbiote partner. :) Their story is actually not on here, as I wrote it after I relocated to dA- you can find the first part here:
http://kingdomheartshera.deviantart.com/gallery/4890504#/d1g0sr6
It was written a few years ago, so have mercy on me? :)
Crimson Rain is basically a modern vampire story, where vampires are created through viruses. Krim here has a mutated strand that gives him a telepathic link to vampires- basically, he can spy on them, and report back to the Hunter squads in time for their prey to be saved. Sometimes. He's a Seeker, and a specific kind that needs to bond with a human- in this case, Erik- to survive. :> Guess, I know. Dumb. Like I said, written two years ago. XD
Original is Here:
http://kingdomheartshera.deviantart.com/#/d35y8ti
---------------
Krimson is from "Crimson Rain"
"CR" (c) KingdomHeartShera