Star Mission ProfilesCover(2004-2005)
Star Mission ProfilesCover(2004-2005)
Star Mission ProfilesCover(2004-2005)
by
KiwiKiss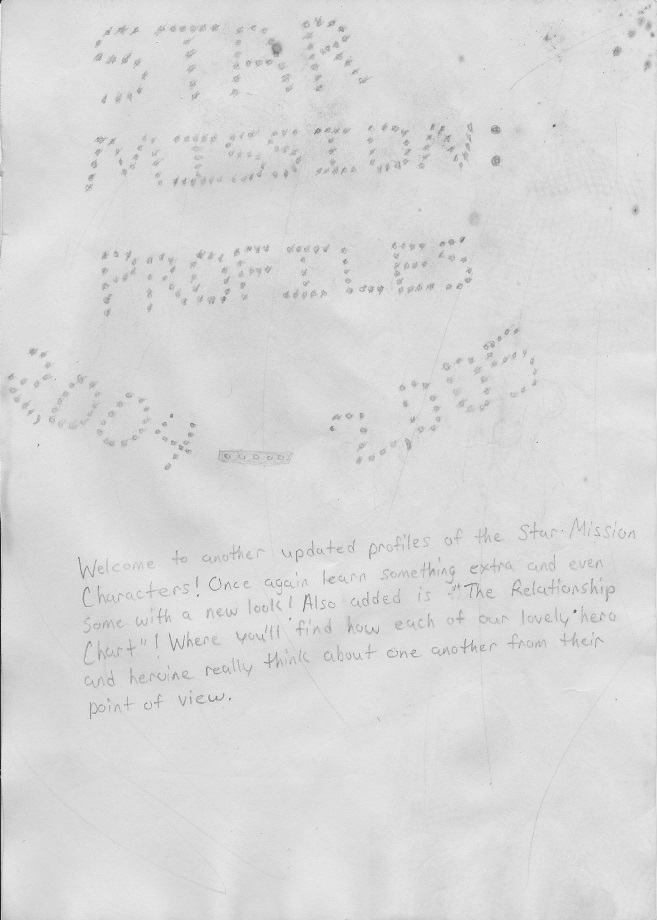 Description
Although this doesn't contain any color(this is due to trying to conserve on color pencils and markers) of the profile cover, I still took the time to design it and try a different route. This the cover of the Star Mission Character Profiles for the year 2004 through 2005. It is the last updated character profiles until the sequel, which will be titled, "Star Mission 2: Forged Fates".  Below is the description of the cover in case you can't read it from the picture.
 
 
DESCRIPTION: Welcome to another updated profiles of the Star Mission characters! Once again, learn something new, and even see those with a new look! Also added is "The Relationship Chart", where you will find out how each of our lovely hero and heroine really think about one another from their point of view.
 
 
Star Mission is copyrighted by me(KiwiKiss).