Eye love him.
Eye love him.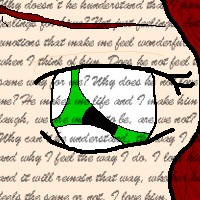 Description
If you can't read it, it says:<br />
<br />
Why doesn't he hunderstand that I have feelings for hime? Not just feelings, but emotions that make me feel wonderful when I think of him. Does he not feel the same way for me? Why does he not love me? He makes me life and I make him laugh, we are meant to be, are we not? Why can't he understand, the way I feel and why I feel the way I do. I love him, and it will remain that way, whether he feels the same or not. I love him.<br />
<br />
<br />
Yeah, just something to pass the time until the requests are all finished and I get my scanner...and to all of you in school, HAPPY SUMMER VACATION!!! WOOT WOOT!!!