Catz Adoption!!!*CLOSED*
Catz Adoption!!!*CLOSED*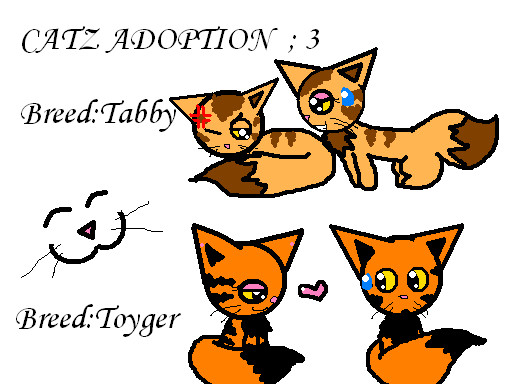 Description
Ok! This is da adoption of da CATZ. I did mine a little different... the first row are Tabbys. The second row are Toygers(part tiger). Da first Tabby is boy, second girl.
Boy Tabby:Kind of stubborn but will grow to love its owner!(He is anoyed by the other cat staring.)
Girl Tabby:Very sweet and curios!(She is watching curiosly as the boy Tabby sleeps.)
Now da first Toyger is a girl, second is a boy.
Girl Toyger:Sassy yet loving(she is makin' a move on the boy Toyger. This is my favorite cat!)
Boy Toyger:Sweet yet shy. (He is kinda nervous because the girl is making a move.)
Hope u like it! Now... GET THE CATZ BEFORE THERE GONE PEOPLEZ!!! GO GO GO GO GO!!!!!!!
General Info
Comments
34
Media
MS Paint
Time Taken
Reference