Baka no Ran Cover
Baka no Ran Cover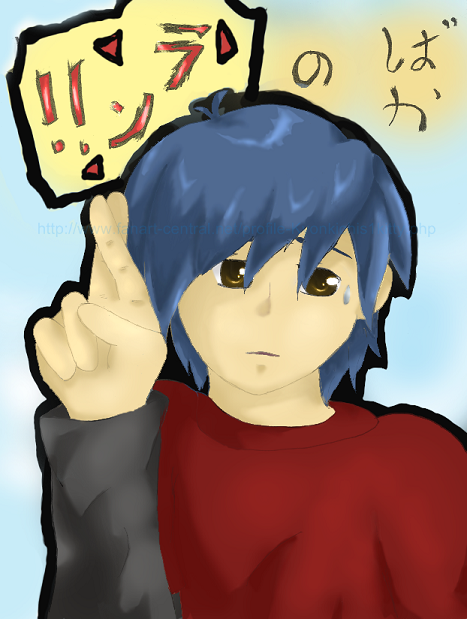 Description
Ya not my best... but I needed to do a cover eventually.
The way his hand is actually has a meaning, but I don't feel like saying anything about wat
R
an-san's hand is t
r
ying to say. =P
I'm still new to using the compute
r
to colo
r
so it's not too good, and yes I
r
ealize i don't shade
r
ight and his face is off.
(the funnest & the ha
r
dest pa
r
t was the hai
r
:3)
If anyone wonders what the title means it means: Ran of the idiots
::SUMMARY::
A mansion full of maids & waiters who care to three guys every whim as they normally lay around all day are in for a big surprise when the "owner" of the mansion desides to build a school there...
[/b]
Oh yes and it's in japanese format so it's read right to left.
Page 1
Latest page
Baka no Ran on Smackjeeves!> (click it stupid)
I have
another manga
if you don't know, it's older than this one so it's not as good, but please take a look anyway =3
If the next page link is not there it will say one of 5 things: LAYOUT, SKETCH, INK, SCREENTONE, or PENDING.
LAYOUT- I'm still making the boxes
SKETCH- Still sketching the poses
INK- Inking out the page
SCREENTONE- Doing touch-ups and screentoning
PENDING- Finished and submitted; just waiting to be approved by FAC.
All school clothing designs by: Hinata102
EDIT 8/28/08- I shoulda put more effort in it @~@
General Info
Comments
5
Media
Other digital art
Time Taken
3 hours
Reference
my hand