Platinum Team 1
Platinum Team 1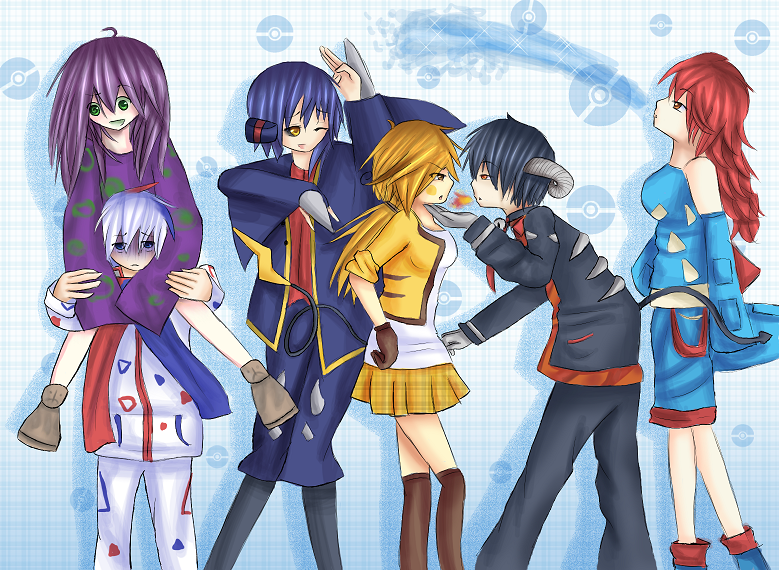 Description
I sketeched this on the last day of school. I don''t know, I was really bored, but this is the humanized version of my lovely Pokemon Platinum Team.
From top left to right
1)
ミカルゲ (Spiritomb) She''s my weakest, she relays on everyone else.
2)
Kiki (Togekiss) He''s one of my strongest, and knows the most varyed attacks. He works well with most the team especially Rar, but is scared of ミカルゲ
3)
Rar (Garchomp) She''s my strongest, but also has the biggest weakness. She perfers to fight with Kiki or ミカルゲ but hates working with Chachu or Dominik.
4)
Chachu (Raichu) Has the highest special attack. She doesn''t like fighting, but she does anyway. She usually works with Dominik. (even though she doesn''t like him)
5)
Dominik (Houndoom) Great fighter, but he has tooo many weaknesses. He''s best friends with Todo, and he likes tobe with Chachu.
6)
Todo (Feraligatr) Pretty strong, but isn''t used much. She is usually paired up with ミカルゲ as backup.
Yep I was bored, I forced myself to follow their genders. (I would of rather made Garchomp and Feraligatr male.)
---
I used the Pokeball brushesat this link >
http://hatsuki-the-duck.deviantart.com/art/Pokeballs-Brush-Set-Test-54714063
General Info
Comments
8
Media
Other digital art
Time Taken
Reference
Original Pokemon Spirites