Dragon Taming
Dragon Taming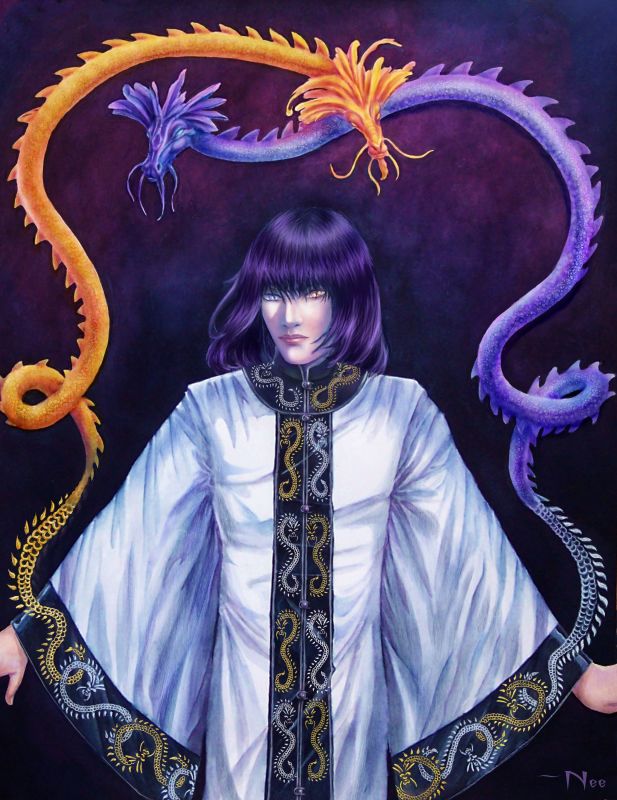 Description
Watercolor and colored pencil with digital enhancement. (18x24) An old painting recently polished up and finished in Painter 8. Crosses both the 'Asian design elements' theme of "Mask" and "Leather" and 'Mystical Beings' of "Elven Moonlight" and "From the Sea".

I think it's probably pretty obvious that the character design was inspired by Count D from 'Petshop of Horrors'. But I meant for it to straddle the line between fanart and original.

I have an original design of this in pencil which was part of the 'Asian design elements' theme project for one of my art classes but had wanted to do a color version, which happened to fit the 'Mystical Beings' theme I was working on the following semester.

I was going through my artwork photos (the painting is too big the scan) and decided that this only needed a little work to be presentable. And I always did like this piece.

The original watercolor painting I had used metallic colored pencils for the gold and silver embroidery and the trail-off into the dragons.Unfortunately, metallics don't reproduce well so converting it to digital lost much of the dragon pattern in his clothes. So I had to rework it in Painter. Buttons too.

Also his hair hadn't been quite how I wanted it, so I repainted it digitally. Finally, the dragons weren't finished with the detail I intended, so I watercolored them digitally in Painter. I wanted to retain as much of the original as possible and keep any digital alterations within a traditional media tone and true to the original medium.
General Info
Comments
4
Media
Other painting
Time Taken
Unknown
Reference
none