November: Near Miss
November: Near Miss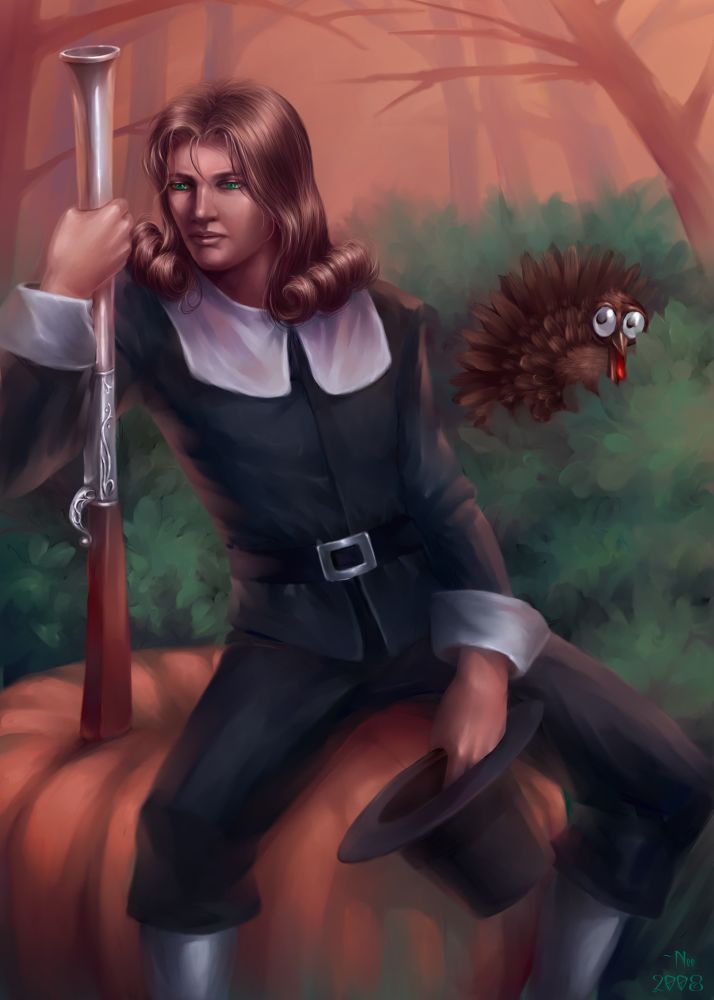 Description
Painter X.

Digital painting for November from my "A Man for Every Season" calendar.

Poor pilgrim's been hunting all day and no luck catching that Thanksgiving dinner. What bad timing on that break he finally takes.

The idea for the turkey actually came from an assignment I had in elementary school where for Thanksgiving we had to write a little finger-puppet play. Me being me couldn't keep it simple and actually designed my own finger-puppet sceneryin addition to the little pilgrim and turkey cut-outs they gave us to color.
The story I came up with was basically two pilgrims wandering around frustrated at what to have for dinner. A turkey in the bushes overhears them, gets frustrated with all the noise and stupidity and blurts out a few ideas, before quickly realizing his mistake. Fortunately for the turkey, he was helpful and the pilgrims thank him by not eating him. :) I was like 8.

I wanted a few more humourous pieces for the calendar and thought inspiration from that story could be funny.

The pilgrim's hair I thought was a little different and was a bit tricky (as in a little more work) to get his hair to curl at the ends, but I think it turned out interesting. The musket I got rather caught up in the detailing. And the turkey I tried to balance making it cartoony but still fit with the style of the painting.
General Info
Comments
2
Media
Digital drawing or painting
Time Taken
~ 4 Days
Reference
none