Another Year Begins
Another Year Begins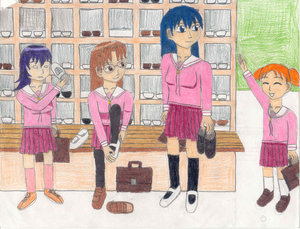 Description
Here are Tomo, Yomi, Sakaki, and Chiyo all coming back to school for another year. They're in the room where they change their shoes.

Tomo has that look on her face because we all know how much she hates coming back to school - you might remember the episode where the girls came back from summer break and Tomo was absently talking about going back to the beach, but snapped out of it when Kagura pushed her.

I think I made Tomo's head too small, and I forgot to put the shine in Sakaki's and Chiyo-chan's hair. I think I put the bench too high up from the ground, because I watched an episode and the bench seemed to be way down by the floor. I was thinking more along the lines of the locker rooms in junior high and senior high school. Also, the upper left corner is white because my paper accidentally ripped. Despite all that, I'm proud of this piece!
General Info
Comments
0
Media
Colored Pencil / Crayon
Time Taken
Reference