Gym Class
Gym Class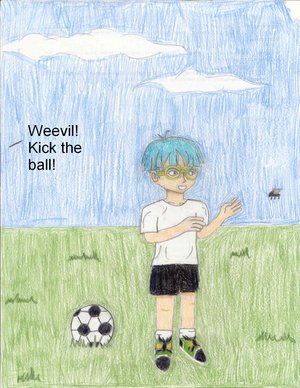 Description
I didn't like the first version I did of this picture, so I updated it. In my opinion, Weevil's hair and pose, and the soccer ball, look a lot better here.

Weevil's in P.E. class at junior high, or high school, or wherever he goes, and once again an insect has caught his attention while the game goes on!

I got this idea from my own experience. Last spring we were out playing softball for gym. I was in the outfield, with my mitt and all, and a butterfly fluttered by. But not just any butterfly! It was a Mourning Cloak, which is my favorite kind. I'd seen it in my butterfly guide, but never in real life! I was very excited.
General Info
Comments
2
Media
Colored Pencil / Crayon
Time Taken
Reference