Rex et Weevilus
Rex et Weevilus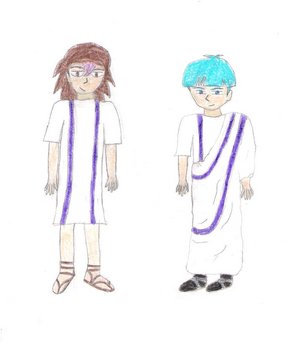 Description
Originally posted Sep. 25th, 2005

Rex Raptorus et Weevilus Underwoodus

This is a drawing of Rex and Weevil as boys in ancient Roman times. Rex is dressed casually, and Weevilus is dressed more formally.

I drew this in Latin class, and missed part of the lesson , which was not good since the next day we had a quiz and I didn't know what to write. I hope this picture is worth bombing that quiz!

Some trivia: "rex" is the Latin word for "king", and it changes form sometimes to "regis" (another name) depending on how you're using it in a sentence. So since "rex" is a real Latin word, I didn't bother adding "-us" to the name.

This was so much fun to draw! I get the strangest ideas, don't I?
General Info
Comments
0
Media
Colored Pencil / Crayon
Time Taken
Reference