Rex et Weevilus stone carving
Rex et Weevilus stone carving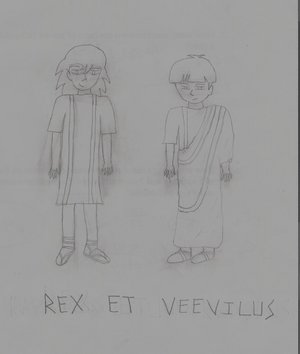 Description
Originally posted Sep. 25th, 2005

Rex Raptorus et Weevilus Underwoodus

This is supposed to be a picture of Rex and Weevilus, and their names, carved in stone. The Romans wrote and drew on paper and on stone tablets.

"Weevilus" is spelled "Veevilus" because the Latin alphabet does not include the letter W. However, they pronounced the letter V like V or W. In the Roman style I wrote it in, the letters U and V look the same, but here it's a V.
General Info
Comments
0
Media
Graphite pencil
Time Taken
Reference