A Gorey Yu-Gi-Oh
A Gorey Yu-Gi-Oh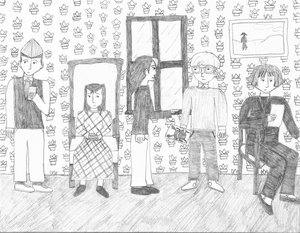 Description
Originally posted Nov. 9th, 2005

Here are Honda (Tristan), Shizuka (Serenity), Ryuuzaki (Rex), Haga (Weevil), and Amelda (Alister). I tried to draw them in the style of Edward Gorey. He was an artist who drew detailed, usually black and white illustrations to go with quirky poems and short stories he wrote. His works are very strange and mostly tragic. Just about everybody in his stories dies in some way , whether it's an adult or a child. It's terrible, really, but very amusing for people like me. Most of his pictures are set in Victorian England , though he himself was American .

Gorey always put detailed wallpaper on the walls he drew, so I tried it. I also tried to use his facial style on the characters.

Ryuuzaki came out kind of strange-looking, I think, and when I drew Haga I should have made him a little shorter, but I don't think any of them turned out that badly.
General Info
Comments
0
Media
Graphite pencil
Time Taken
Reference