Dr. Nusakan
Dr. Nusakan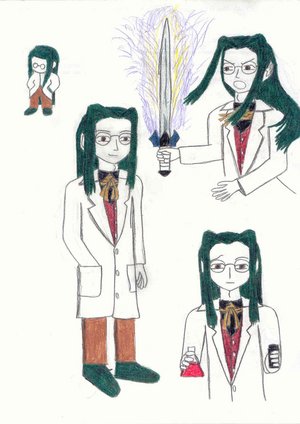 Description
My favorite character from the old PS1 RPG SaGa Frontier. The game tells the story of the quests of seven different characters you must play as, and at the end they're all supposed to tie together. There are a bunch of minor characters you can add to your battling party, this guy being one of them.

Nusakan is a mystic, which is a race of beings that have blue blood, and are granted with the power to absorb their enemies' attacks with the Mystic Sword, Mystic Glove, and Mystic Boots. They are ageless, cannot conceive, do not die by natural causes (only through accident or murder), and I think they lack the range of emotions that humans have, or more likely, simply cannot express them physically, because of the power of one of the Mystic Lords over them. Anyway, Dr. Nusakan is one of the lower-rank mystics, not quite as powerful as the Lords or their assistants, but still one of the best mystic partners you can get on your team. He lives among humans because he's fascinated by human illness and conducts research on it (apparently mystics don't get sick either), and runs this creepy-looking clinic. He's also known as a (mad) scientist for some of his experiments, and he's an exorcist as well.

As you play the game, you see all the characters as sprites, so I drew his sprite form in the upper-left. He's using the Mystic Sword in the upper-right.
General Info
Comments
2
Media
Colored Pencil / Crayon
Time Taken
Reference