You Got Nothing On Me
You Got Nothing On Me
You Got Nothing On Me
by
Liezy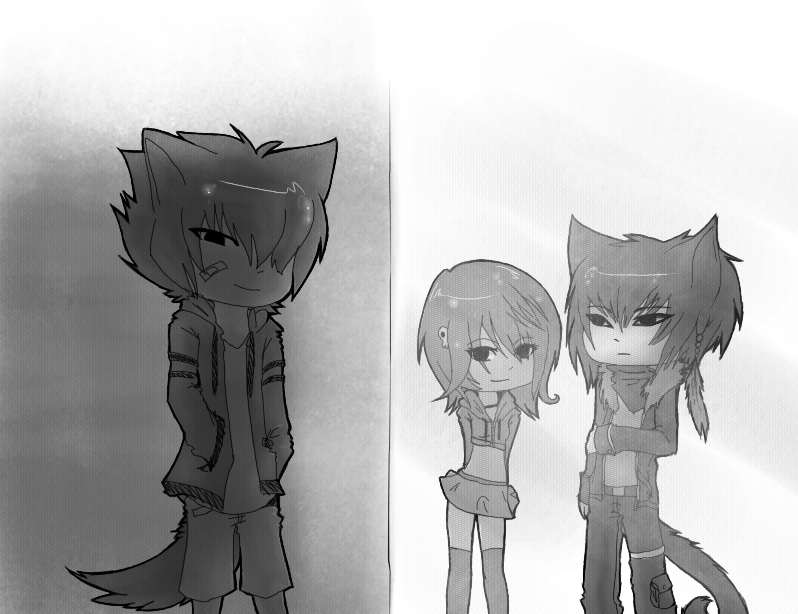 Description
From
their
left to right, there's Neil, Ava, and Mori.
Neil
-kind of the big brother and usually wears a cap to hide his ears and curls up his tail to look more human. He particularly likes feathers and beads of a well slected hands made crafts.
Ava
- The only human of the group. She travels around with them in search of a home so they all could live in peace. She's caught both the attenion of Neil and Mori, but is uncertain about it.
Mori
- The hot tempered dog that hates being a push over and loves to get his way. Mori being raised on the streets takes heed and does not take the trust of people he just meet so easily. He tends to get into hissy fits with Neil of who should be helping Ava.
These characters of mine dont take part in any game/anime/manga and are just my orginal characters who I started a story with over this last month or two. The out come or the story board is still yet unknown and very 'sketchy' so this whole discription will change over a few times, not so much on their personalities.
Ava/Mori/Neil©Al
General Info
Comments
4
Media
Other digital art
Time Taken
Reference