The Trio Returns
The Trio Returns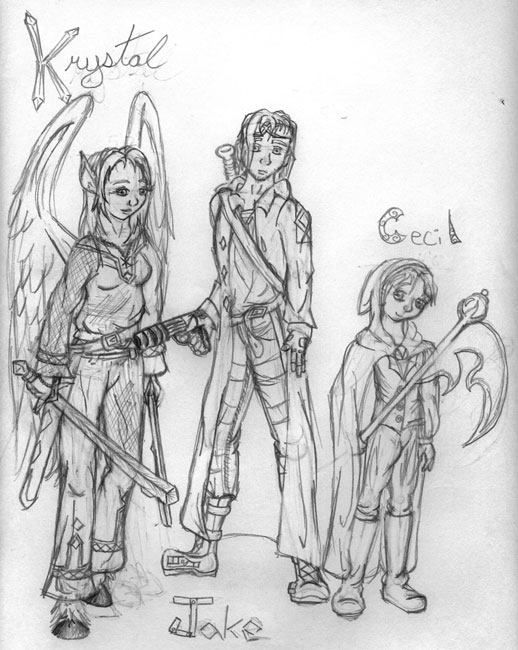 Description
Yes, the triumphant return of the infamous group of role-playing characters that I used to draw on a day-to-day basis! (Not that... you know... anyone really cares or anything. >.> )

Vivi's name has been officially changed to Cecil by his creator, along with a better definition of each of the three worlds/realms/universes these characters are from.

Krystal is from a world based on a classic medieval fantasy- they have limited technology. Though some cultures have developed mechanical devices based on clockwork, the technology hasn't yet spread very far from their particular regions due to a lack of communication.

Jake is now officially from a world based in Cyberpunk- they have extremely advanced technology, like laser guns and airships, but still retain the use of some magic.

Cecil is from a Steampunk world- They've acheived and mastered the use of steam power to other items (besides trains and automobiles). They also use air-filled blimps as modes of transportation.

(I realize most people know what the genres are... I guess I'm just laying them out for myself, really. XD )

I gave Jake a laser-gun (which was kinda fun to draw :D ), and a more modern outfit. Cecil got a waistcoat and high-topped boots, but still has a cloak (because he just wouldn't be the same character without one XD ). And with Krystal... well... she remained pretty much the same from the last drawing (the revised one).
General Info
Comments
0
Media
Graphite pencil
Time Taken
5 Hours
Reference