Chibi LizzardQueeng!
Chibi LizzardQueeng!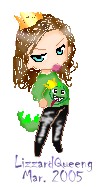 Description
Squee! Chibi me! Inspired by C-Chan (or Bishyboylover) 'cuz she's been doing chibis of herself, so I'd thought I'd do one! iT DOES LOOK LIKE ME my sister said so, Quote; "It's weird, 'cuz it looks likr you." End Quote I have blue eyes and brown Curly/wavy hair, heh I added the crown and Lizzard tail because it seemed fitting lol Oh, and I like my shirt (if you can't see it, it's a lizzard head with a crown on, sticking it's tounge out like me,
Comments and critisism are Appreciated.
Color; 15-20 min.
Base obtained from;
http://www.asuchan.net/useless/
General Info
Comments
6
Media
Unspecified
Time Taken
Reference