Meet Crystal Flame
Meet Crystal Flame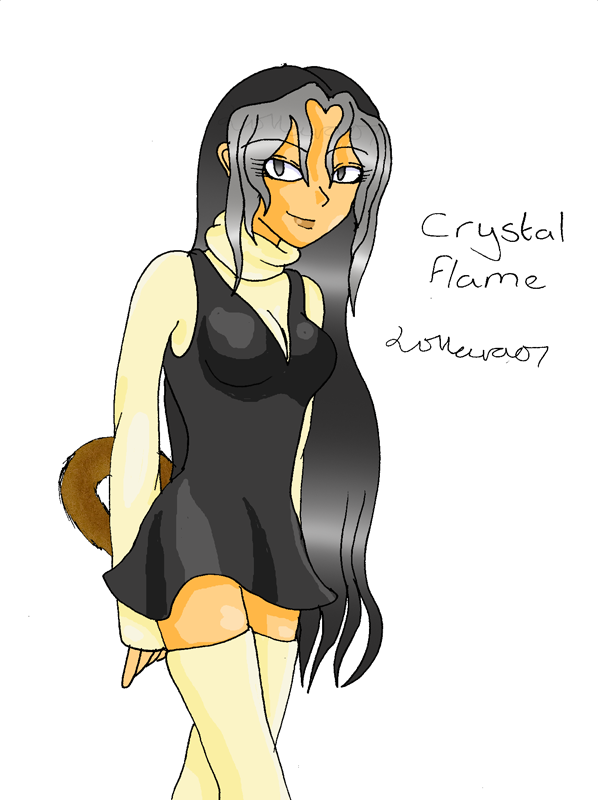 Description
Name: Crystal Flame

Age:22

Speiecs: 1/2 Saiyan 1/2 Warrior Princess

Family:
Real Father- Mental Flame (deceased)
Real Mother- Queen Dimonde the third (alive)
Adopted Mother - Cathy Ratkins
Adopted Father - Dave Ratkins
Adopted Brother - Bruce Ratkins

History:
basically her father was the saiyan in her he was sent to destroy the world but he set eyes on the princess he has other plan tho forbidden they fell in love a secretly saw eachother, but they got caught unknowing to them the princess woke up the next day with her lovers beheaded head on her bed as a warning, when found out that she was carries Crystal the planned to kill her too, but her mother knew better and sent her to earth where she was raised by humans

at the ages of 13 (i think) she was meant to of gone camping with her adopted brother but he dared her to do it alone. She did but woke up in the night to her brothers mates trying to get in her sleeping bag she fights him off and tries to run but he grabs her foot she pulls so tight and her shoe comes off and sends her into a tree, scared and in serious pin she conts to run not knowing the tree came down on the tent and she'd later be told her killed him and was sent away to be punished tho Goku found her and trained her.

She slowly moved away to a new house for a fresh start but the question is will she get a break?