Then draw your sword
Then draw your sword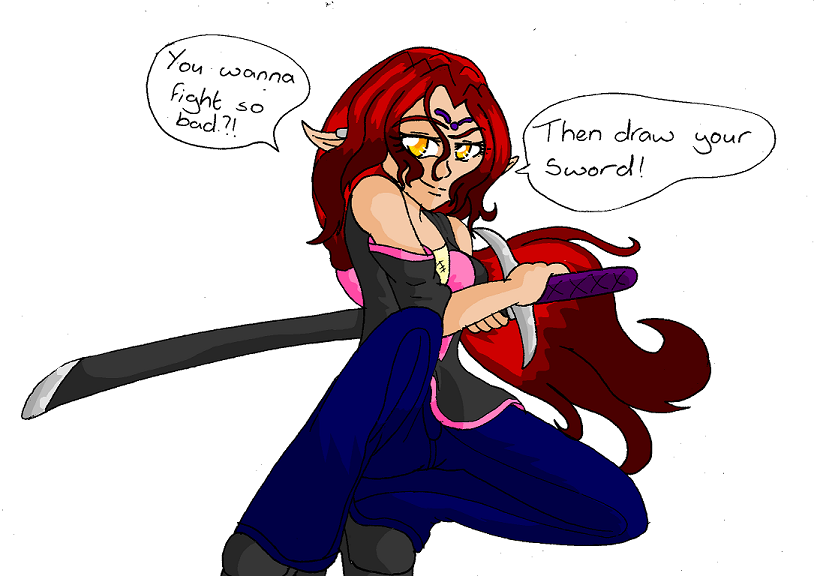 Description
Her Bio

Full Name: Amunet (not surname for her kind were war slaves)

Age: 27

Gender: female

Height: 6' 1"

Weight: 158

Body Marks/Scars: Body Marks yes the one on her forehead and two stars on her lower back (the marks of her people)
Scars yes all over her body.

Race: Purestar

Living at: Earth (was her home planet Puresun)

Occupation: Ex Masters Assassin

Hobbies: Unknown

Favorite Food: Anything pretty much

Favorite Color: Blood Red

Personality: Very dogy but all assassin like her act the same as never shown love in there life.

History: Her planet was taken over by another race years ago and all the Purestar's were put into slavery to become assassins for the masters that choose them. Amunet was taken as a baby and was trained as she grew up so it's all she knows. For years she tried her best to do what her master told her to do, If she failed her was whipped and locked in a room. Amunet ended up less and less in the room for the anger when she got from being in there in the dark for days made her more powerful. It made her quicker and a better fighter and so her owner was proud. But he showed his real colours when she got seriously hurt on a mission, she reported her injures to him from her spaceship but he didn't seem bothered about her wounds and said she can easierly be replaced. She went into shock before rage took her over and she punched a hole though the main controls of her spaceship. Meaning her spaceship crash landed on earth with a huge thud, shaking the ground around it. She's went to the hospital and got herself healed, on her way back to her spaceship she noticed the homes and stuff around her, mainly the warming feeling that was all round the village. She thought why go home to a person that didn't care if she was even alive when she could stay here. She put the data into her spaceship after fixing it and activated it's cloaking device and it morphed to a home and she lived in that. She mainly helps out her village like mending and so on. A few have came to collect her for the bounty on her to get her to return but they never lived to take her away.....
General Info
Comments
1
Media
Other digital art
Time Taken
Reference