I want to be like Tetsuya Nomura! (FFX Yuna)
I want to be like Tetsuya Nomura! (FFX Yuna)
I want to be like Tetsuya Nomura! (FFX Yuna)
by
Manda_Kay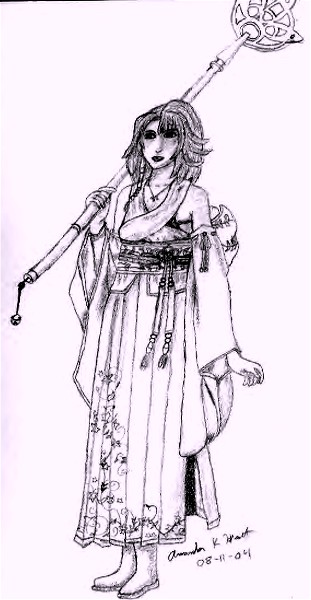 Description
::sighs:: If only I had half the talent Mr. Nomura has, I'd be happy. But unfortunately, my pic here pales in comparison to the beauty of the real thing.

None the less, I am very proud of this picture. It was my first serious attempt at drawing Yuna, and because of this pic I am well on my way to being able to master drawing her from memory.

I don't color my pictures. At least not yet. Maybe one day I'll brave those waters. But I didn't want it to be strictly black and white, so I gave it a lavendar tint.

Constructive criticisms only, please! Tell me what I need to work on so I can learn to draw her better.

And by the way, the title IS supposed to be a joke. Even though it's still true...