"V" for Victory! (FFX Yuna)
"V" for Victory! (FFX Yuna)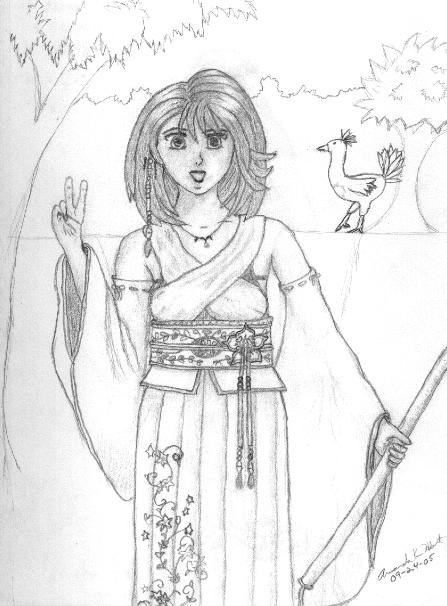 Description
I couldn't decide if she was giving the peace sign or a 'V' for victory. But I decided that since FFX is from Japan, it was a 'V', because in Asia that's what they all do in every single one of their pictures (I kid you not).<br />
<br />
So, I started this pic around two months ago. Just finished it. I thought it looked weird with Yuna all by herself so I added the background. Pay no heed to the demented chocobo.<br />
<br />
I've never really tried to draw real trees before. I always make them so cartoonish, but I went for a little more realism this time, even if it wasn't much of a success.<br />
<br />
I've been practicing adding shine to hair. This is my best attempt so far. I'm also getting better at hands, I think. I'm really trying to move beyond copying other artists and redrawing other pictures and going for my own stuff.<br />
<br />
Comment! If you don't the chocobo shall reign meteors down upon you!