Creating Camp Lazlo OC Character profile 2
Creating Camp Lazlo OC Character profile 2
Creating Camp Lazlo OC Character profile 2
by
Mandarin123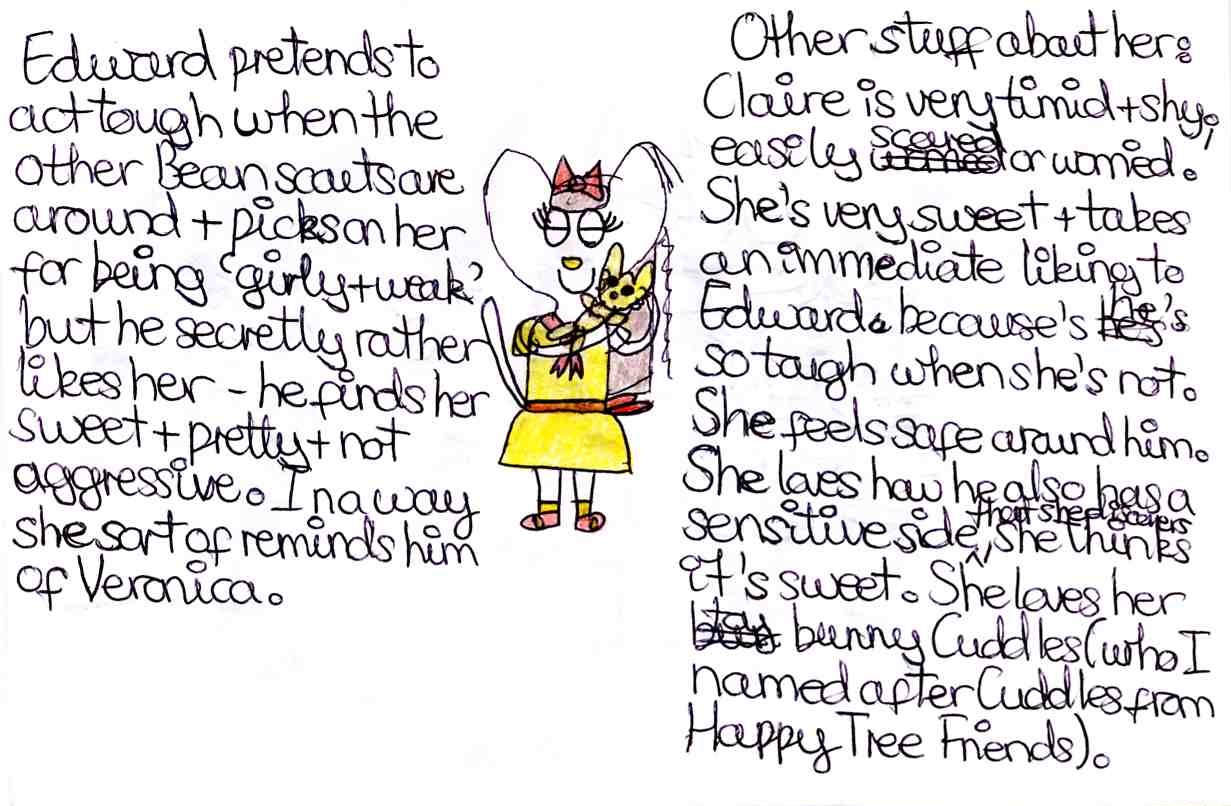 Description
THIS IS NOT NEW, IT'S FROM 2007
This is the 2nd character profile I made for my Camp Lazlo OC back in august 2007. Yeah, she was originally called Claire but was renamed to Emma in oct 2007. The pic from this profile was used here: http://emmalovesedwardxxx.deviantart.com/art/Emma-62907808 when I wanted to show people what she looked like back in 2007.
Atleast this tells you a little bit more about her character. For some reason I did not upload these character profiles and fanfiction back in the day (I think it was because the fanfiction was sort of unfinished but it got uploaded a couple of years ago) so people probably only had fanart to go by...plus I did roleplays with a few people.
So to add to this, she was basically a very timid character who barely said a word and kept herself to herself. She joins the Bean scouts instead of the Squirrel scouts (she is supposed to be partially wearing the uniform) and Edward is pissed the frack off that a GIRL is joining the Bean scouts and is horrible to her (so no, they didn't instantly like eachother/fall in love). She does however fancy him straight away like the pic suggests. The 1st fanfic was unfinished but he was supposed to eventually develop feelings for her but NEVER vocalize it- he continues to push her around in order to keep up appearances. So his reasons for liking her were she isn't annoying like all the other Bean scouts (in his opinion), cute and pretty, sweet & gentle who listens to & empathizes with & understands his problems and has the patience to deal with him lol. So he comes to appreciate this and sees her as his in real life Veronica. I always thought he would be happier if he met the right girl so that's why he was nearly always happy in my pics lol. Though this all happens over time. I had a fanfic based on a ropleplay where he confesses that he loves her after she tells him that she loves him and it seems like all this love comes out of nowhere but they had felt that way for a WHILE. So after the confession, they start going out in secret and then they are eventually open about their relationship. All happens over time lol. So most of my pics were set after then- cutesy pics like hugging, kissing, holding hands, him giving her a flower, looking at the other one with heart eyes when they're dressed up and looking at eachother lovingly, episodes with her inserted in (Hold it Lazlo and Edward's Big Bag), holiday themed pics etc aswell as Veronica being brought in, Edward getting a doll of her, double dates, their first time, pregnancy and babies.