Yu-Gi-Oh! - Screenshot - Everywhere I turn
Yu-Gi-Oh! - Screenshot - Everywhere I turn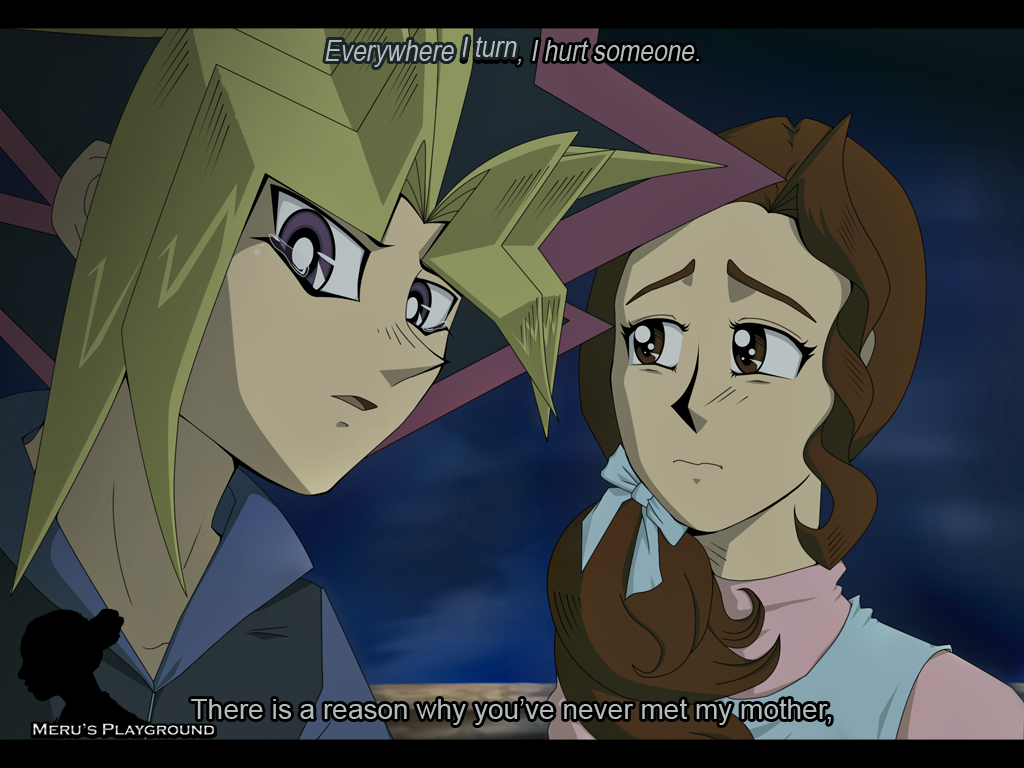 Description
Deviation Title: Yu-Gi-Oh! - Screenshot - Everywhere I turn.
Anime:
Yu-Gi-Oh!
Season:
03 - The parts to re-unite
Character(s):
Yami Yugi / Atem
Meru Nazo
Geisha name:
Masami
Couple:
ThunderCloudShipping,
Yami / Atem(u) × Meru Nazo
Artist's Comment(s)
I want to thank a friend on DA for helping with my drawing and grammar-mistakes in my fanfiction I made for this *hug* Thanks allot, really.
NOTE
:
Yes I know it is un-original that one of Meru's parents doesn't live anymore, but please don't make a fuss about it. It is one of the self-inserts I did and will leave this way.
The last Thunder turn
Everywhere I turn,
'Atem ?'
I ask friendly since he isn't in such a great mood today, ever since we stepped in the plane to Egypt, he hasn't spoken a word. It's the second time we go to his birthplace, but this time there will be no freaky magic stuff. at least that's what he promised me right before we left..But I know better then that.
'Didn't you say that we would go to the hotel right after arriving on the airport ? so, where are you going ?'
I ask confused.
'You must've misheard me, right after we arrive ,you go to the hotel.'
He says while he turns his back to me.
I step before him and give him an upsetting look, what else was I supposed to do, stop him ? Or wait, I have a better idea…
'You know that if you happen to go somewhere; I'm going with you, those are the rules. I'm a bee and you are my flower, I can't stop following you, it's an instinct. And please, don't say; No, it's too dangerous, since you always drag me down into these things. Oh by the way, next time I make one of these little rap-up speeches like this one, hit me, hard..'
The way I see him sigh and move was a sign that I won this duel, but I certainly do want to know;
where are
we
going this time ?
After leaving our bags into our hotel room Atem called Ishizu to borrow their Jeep. Marik and Odion brought it and left without a sound, do they know something I don't ? After half an hour we arrive at the dessert we got lost in once before. Instead of driving through the endless sand's, he decided to stop the car so we could walk, now that will be lot's of fun! Sarcastically said.
'Atem, you did bring the flash light, right ?' I complain.
He didn't react, he didn't care, he didn't even look at me. He activated his millennium puzzle and changed into his past self, the real him. With him in that form we kept on walking till we got near a cave.
'Could you please wait here Meru ?'
He asks without even looking at me, am I invisible today ? when I wanted to answer he somehow changed back to his normal, well-known self.
'Hey Meru, have I ever told you how I managed to get the nickname 'demon ?' You know, how my father mostly calls me. '
He sits down and once again turns his head away to look at he opposite-side and not at me, while I answer his question by sitting close next to him and put my arm around his body.
'There is a reason why you've never met my mother, she died because of my birth. My father was heart-broken and still is. Shimon told me he was always such a nice and calm man with allot of patience. He was always hard and sure on me and also protective ever since I was born, I am the only thing he has left from my mother, he only keeps me as a sort of memory while on the same time he blames me for it all. The rumor is of course that I killed her, and I still believe that sometimes. If I only..'
His tears started to fall into the sand, I know what he was about to say and I understood what he was going through, I finally realized why we were here. as I slowly wrap my arms around him in a hug I say;
'Please thank her for me, if she hadn't been there I wouldn't have had such a great friend.'
I would've liked to remain into that position for a while but he got up and started walking to the grave with this time looking back at me and gave a smile as in a sign of
'It's okay now.'
While Atem was at the grave of his dearly loved mother I was thinking about my father, He too died when I was born. I know that it's coincidence but it is still one of those little thing's that makes me feel closer to Atem. Seeing as I know, one of these day's he has to leave just like they did.
Yu-Gi-Oh! © Kazuki Takahashi
Yami yugi / Atem © Kazuki Takahashi
Meru Nazo / Masami © MerusPlayground
Everywhere I turn is a song that belong to Phill Collins, it was also used it the Disney movie, brother bear.
General Info
Comments
5
Media
Other digital art
Time Taken
9 Hours, or more
Reference