In Reality They're Crooks PT2
In Reality They're Crooks PT2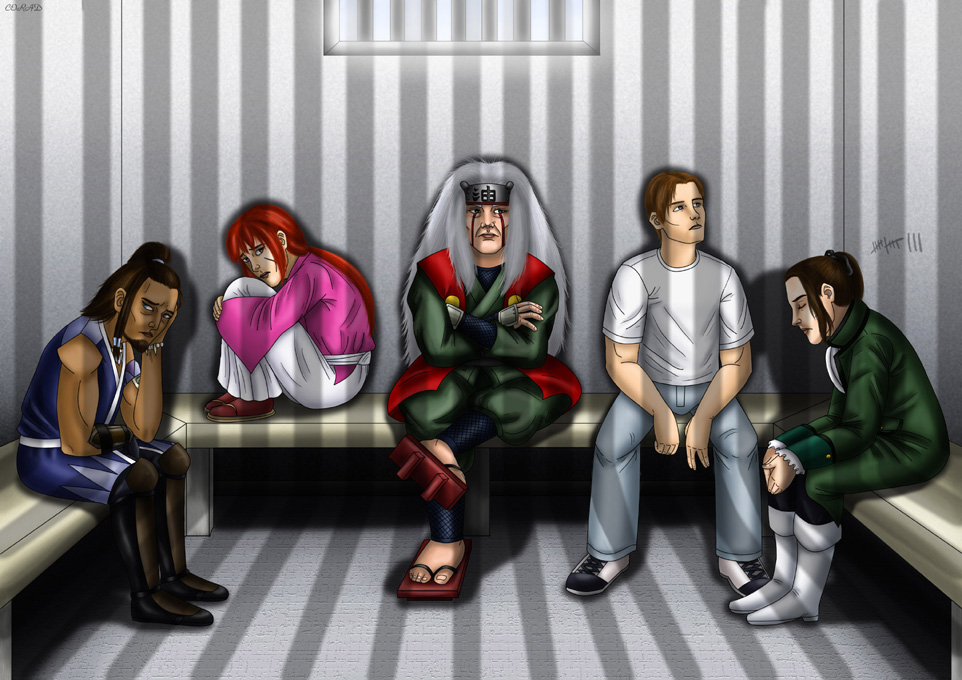 Description
Madman "REEL-er Anime" Art Competition entry from 2010. A continuation of
http://www.fanart-central.net/pic-825217.html
~~~~~~~~~~
Hey look! It's Krillin's future cell-mates XD Each and every one of these unfortunate souls are in here for a reason(s). From left to right: Hakoda (Avatar the Last Airbender), Himura Kenshin (Rurouni Kenshin), Jiraiya (Naruto), Takumi Fujiwara (Initial D) and Durand (Le Chevalier d'Eon). Here's what they did:
Hakoda
- People smuggling, being in possesion of weapons and crossbred species of plants and animals, blasphemous rambling about an "Avatar", entering countries/waters illegally by ship, confession to be heading to an "invasion" upon arrest
Kenshin
- Carrying a weapon in public.
Jiraiya
- Invasion of privacy (particularly women), including a minor in his suspicious activities, public harrassment, carrying an arsenal of weapons, forcing a minor to be involved with his "dirty book".
Takumi
- Speeding, erratical driving, driving on the wrong side of the road, illegal racing.
Durand
- Carrying a weapon, working in alliance with other fugitives, fighting on public streets.
General Info
| | | | |
| --- | --- | --- | --- |
| Ratings | | Comments | 0 |
| Category | Anime/Manga » - Crossovers | Media | Digital drawing or painting |
| Date Submitted | | Time Taken | |
| Views | 215 | Reference | |
| Favorites... | 0 | Keywords | avatar, hakoda, kenshin, rurouni, naruto, jiraiya, initial, d, takumi, tak, durand |
| Vote Score | 0 | License | Berne Convention |