Where's My Lieutenant
Where's My Lieutenant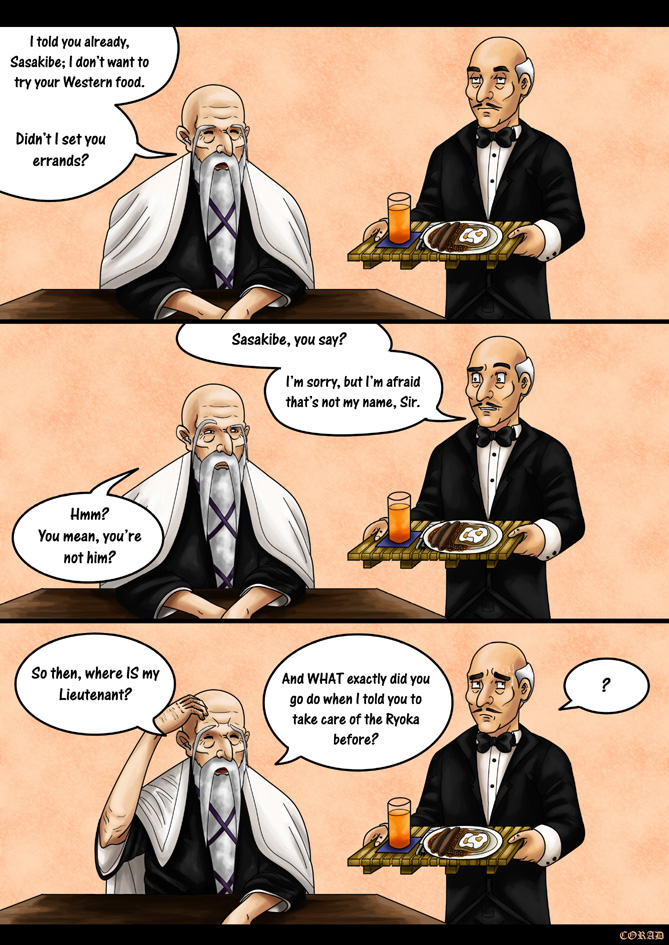 Description
Madman "Butler For A Day" Art Competition entry from 2011. We had to draw an anime character as a Butler, serving someone else. I'd chosen Alfred from Batman, serving Yamamoto from Bleach.
~~~~~~~~~~
Ah, what a fine day Yamamoto was having - sitting at his desk, reading over his papers, pondering on what to do about (Ichigo's) Ryoka invasion - but wait a moment, what's this? What appears to be the First Squad's Vice Captain, Sasakibe Choujirou, has sauntered in, armed with a platter of strange, Western-styled food. Harbouring a great dislike for such food, Yamamoto attempted to shoo the man away, when the shocking truth was revealed, that this man is not Sasakibe. So then who the devil is he...?
Alfred Pennyworth, huh? Oh dear, it seems Batman's beloved Butler has died and gone to Seirietei, and he's still bent on serving one he may call his Master. The question still remains though, just where did Sasakibe go?
Part Two:
http://www.fanart-central.net/pic-825287.html
General Info
Comments
7
Media
Digital drawing or painting
Time Taken
Reference