Where's My Butler
Where's My Butler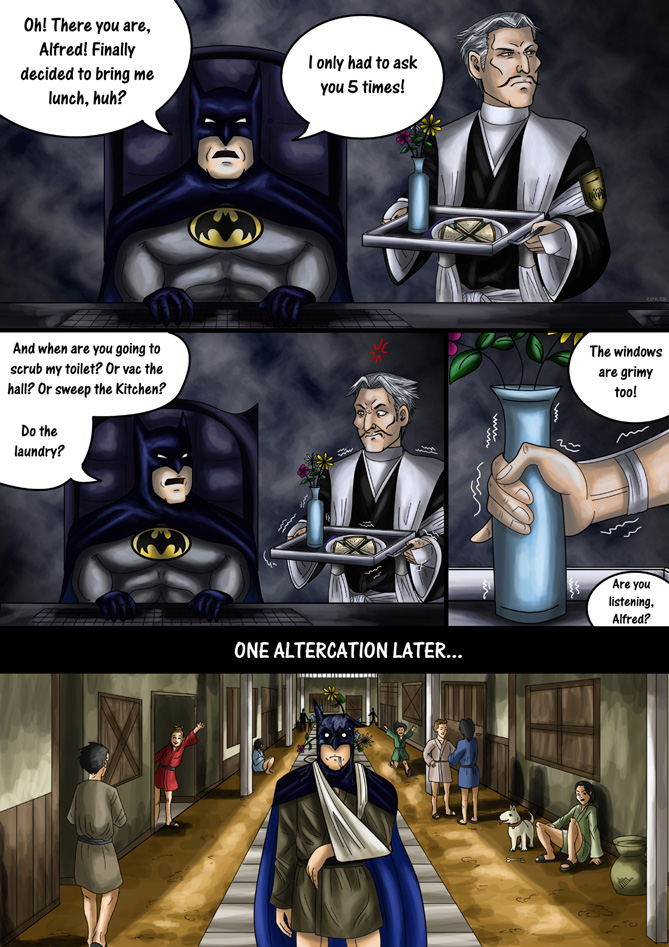 Description
Madman "Butler For A Day" Art Competition entry from 2011. We had to draw an anime character as a butler, serving someone else. I'd chosen Sasakibe Choujirou from Bleach, serving Batman.
Part One:
http://www.fanart-central.net/pic-825286.html
~~~~~~~~~~
With the question posed of where Sasakibe got to, we find ourselves deep in Batman's Lair, in the Human World. Alfred Pennyworth has passed away and Sasakibe Choujirou took it upon himself to exorcise his soul into Soul Society. He should have returned home upon that point, but figured he'd totter about taking in the highlights of Western culture. He was having fun until he happened across Batman, who, for the sake of this picture, has dense spiritual pressure and is able to see Soul Reapers. Also for the sake of this picture, Batty is a little blind, and also just a tad bit naggy. Sasakibe is provoked by his constant nagging to do his housework, before finally he snaps and (still remaining a sense of his Gentlemanly manner i.e. holding his pinky away from his grasp) he smashes a vase of flowers over Batman's unsuspecting head D:
A short while later, Batman found himself covered in vase remnants, sprouting flowers from his head, lost somewhere in the middle of the Alley of Souls, wondering what had just happened.
On the plus side, it looks like Batman and Alfred will be reunited. I'd be willing to bet that they'd make great Soul Reapers someday...
General Info
Comments
2
Media
Digital drawing or painting
Time Taken
Reference