What the Hell is That?!
What the Hell is That?!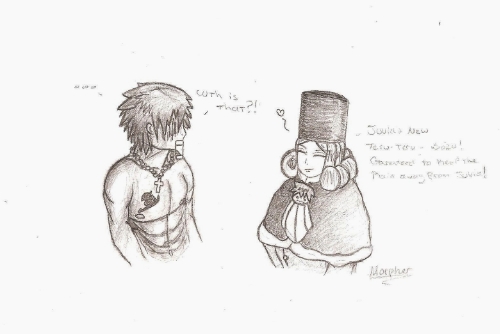 Description
Hehehe, I'm rather surprised Juvia hasn't done this yet. Here's what they are saying:

Gray: Wth is that?!
Juvia: Juvia's new teru teru bozu! Guaranteed to keep the rain away from Juvia!
Gray: ...

Haha, I made her teru teru bozu with Gray's hair to make it look like Gray. xD I couldn't really give it much else to make it look like him seeing as he wears nothing most of the time! xDD I'm quite proud with how the both of them came out. Especially, Gray. I am so bad with drawing guys and I was so happy to see how well he came out. (Even with my fail shading xD). And yes, I only drew their upper torso. Deal with it. xP Well, enjoy!
General Info
Comments
0
Media
Graphite pencil
Time Taken
1 Hour
Reference