Unknown Creature No.16
Unknown Creature No.16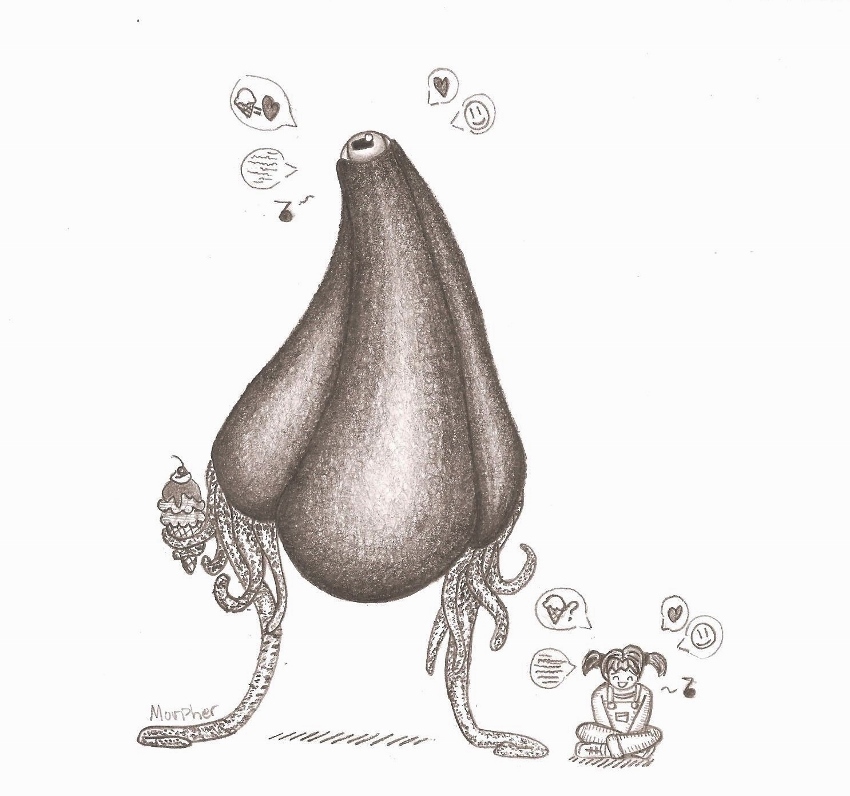 Description
This one was scanning rather oddly and messing with its quality somewhat. This is my best re-scan so I'll stick with it. (I may try again and see if I can make it better later, maybe, who knows.)
----

Anyways, say hello to Unknown Creature No.16! Here's some info on this creature: it floats, it has pharyngeal teeth, its tendrils can regenerate if cut off, and it has a massive sweet tooth. Now I know what you're thinking: "how on Earth can this creature eat? I don't see a mouth? Is the mouth just not visible? Like on the other side of it or something?" Yes, it does indeed have a mouth, no it's not on the other side of it. Can you guess where it is? Guess. Now guess again. And again. Odds are all your guesses are wrong. The mouth is actually were it's eye is. Yep, this creature's eye is literally plugged into it's throat, and it can remove/pop the eye out freely and then put it back in when it eats. This creature is also a very friendly and nice creature and can even be on the sensitive side. Look it even made friends with a little girl!

BONUS BACKSTORY ON HOW THE CREATURE AND GIRL MEET:

The little girl gets an allowance of $8 once a week from doing chores, she will spend $2.50 on an ice cream sandwich and save the rest for anything else she may want. She cuts through the forest that separates her home from the bustling little town she lives in; as this is a faster means of travel from her place to the town, to the ice cream shop. On her way back home with her ice cream sandwich one day she ends up meeting this odd creature in the forest. Due to the naivety of her age and never seeing such a creature before she approached it out of curiosity. Her eyes were locked onto the creatures, though apparently the creatures eye was locked onto her ice cream. She eventually took notice and gave the creature her ice cream. The creature took it and ate with gusto. It then communicated to her a thank you and was very happy to have the sugary sweet goodness and told her that she herself was a nice person. After this encounter the girl would spend her entire allowance on extra large ice creams and give it to the creature. The two from then on would hang out and chat the time away as best friends.

And yes, I know what your thinking now: "how can it talk if it's eye is technically in it's mouth?" oral communication isn't the only means of communication.

Well, enough of my blathering, hope you all, enjoy.