Axel verses Marluxia 3, The Choatic Fury
Axel verses Marluxia 3, The Choatic Fury
Axel verses Marluxia 3, The Choatic Fury
by
NIX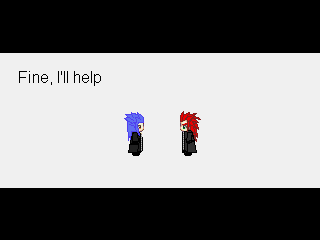 Description
This is the third, I am continuing this little charade, I will finish it up in the Organization fight! Anyway, Axel needed help, but Saix forgot not to piss off the girly guy.
It is a bit hard to under stand. here are the lines
Saix: Fine, I'll help
But give it back after
Axel: fine then
...
...
Marluxia: huh? two enemies? Good thing I leveled up...WTF
Axel: Riku and Roxas teamed up!
Marluxia: oh yeah, the other Animation
Axel:...
Marluxia: don't you two hate each other?
Saix: yeah, but...
Marluxia: but what?
Saix: he stole my...
Axel: kill him or I won't return little Bersy
Marluxia: Little Bersy!?!?
Saix:Whatever, Axel?
Axel: huh?
Saix: I am outa here
I don't want to be with you asses
both: !
Marluxia: You dog!!
General Info
Comments
5
Media
Other digital art
Time Taken
Reference